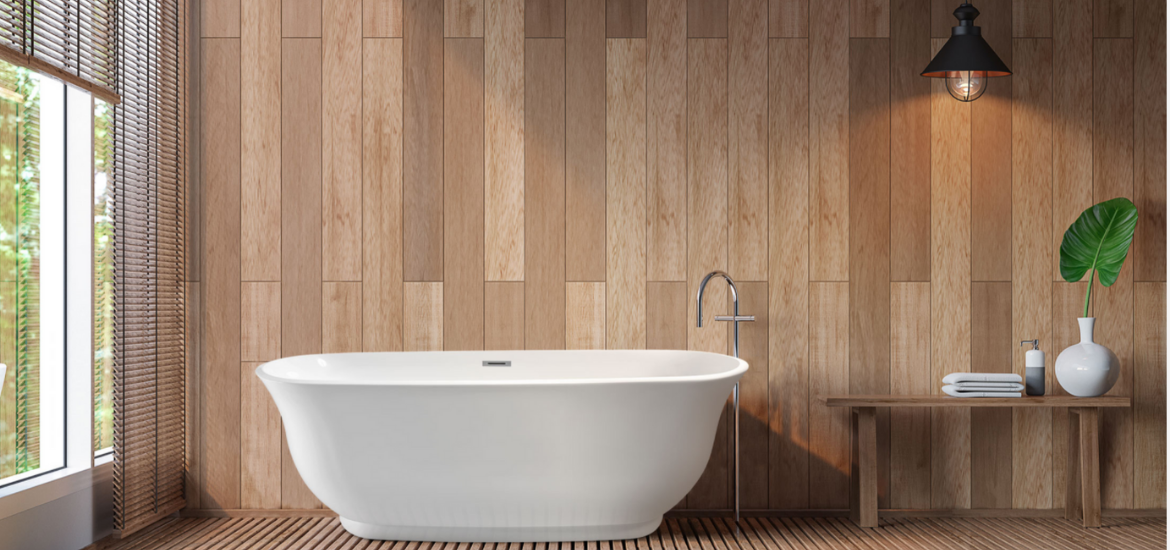 Minimalist bathrooms ideas and styles are often precise, functional, and stark. The uncluttered and neat styling is attained by reducing the majority of the decor or even using useful items to be used as decor. The end result is efficient, roomy, and pleasant bathrooms. Nevertheless, many conceive minimalism as harsh and bleak. Here are a few minimalist bathroom ideas and simple bathroom designs which will enhance the appearance of your respective bathroom and allow you to love the effectiveness of minimalism too!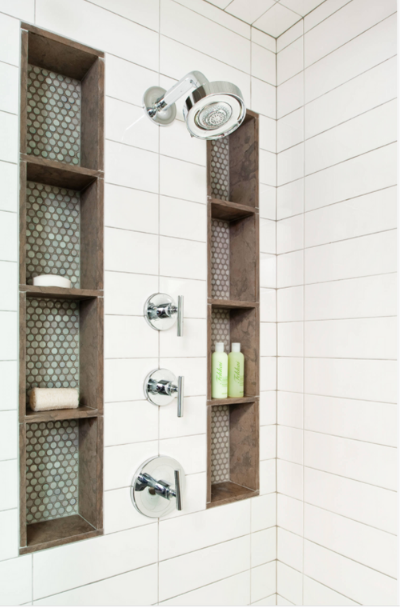 The shower niche is not just functional; it also adds character to the room.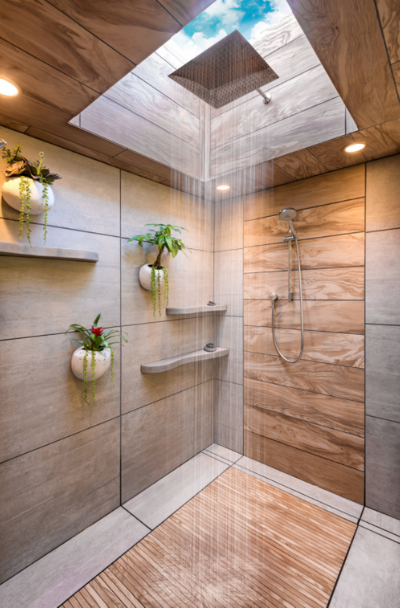 Have a luxurious shower experience with clouds above your head.
The black hardware and shower frame stand out in an all-white bathroom.
Elegant shower system, gray tiles, and glass doors for this modern bathroom.
ULTRA PLUSH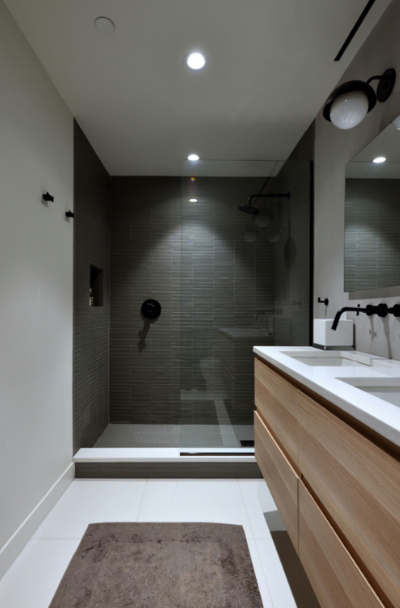 The combination of materials and neutral colors give the room an attractive appeal.
MONOTONE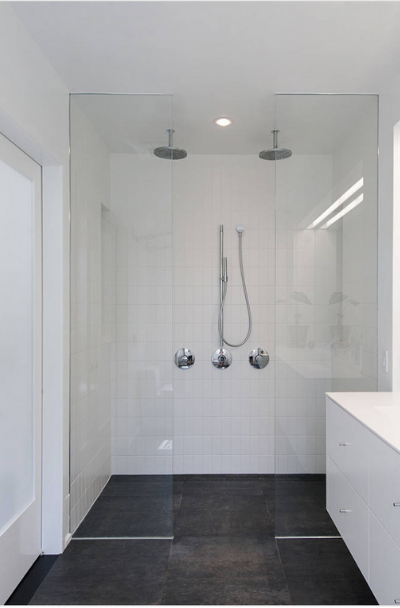 Beautiful and clean design with full storage under the sink to hide the clutter.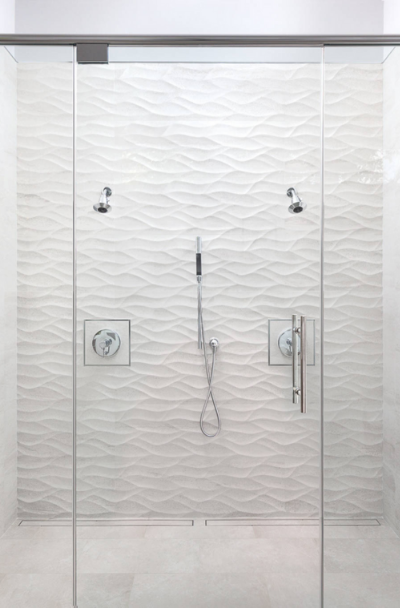 The curbless infinity shower maximizes the space and add visual appeal.
SLEEK MODERN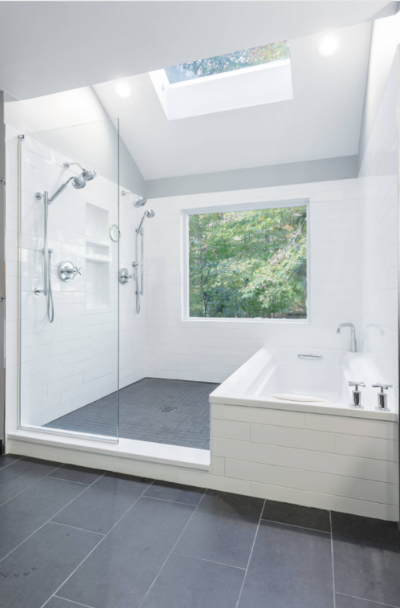 Enjoy a relaxing bath with a great view, made possible by the window & skylight.
STRIKING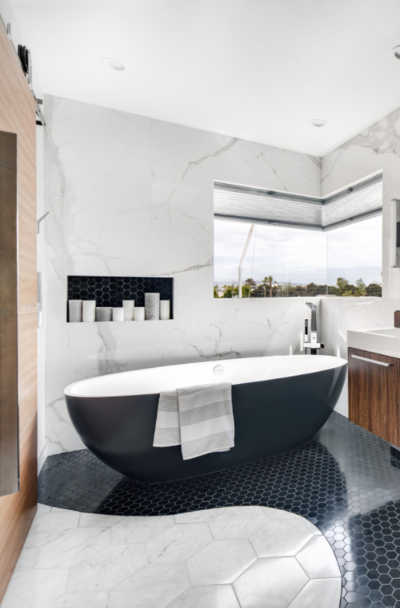 The dark gray tiles, wood cabinets, & white walls all blend together like a dream.
ELEGANT & CLEAN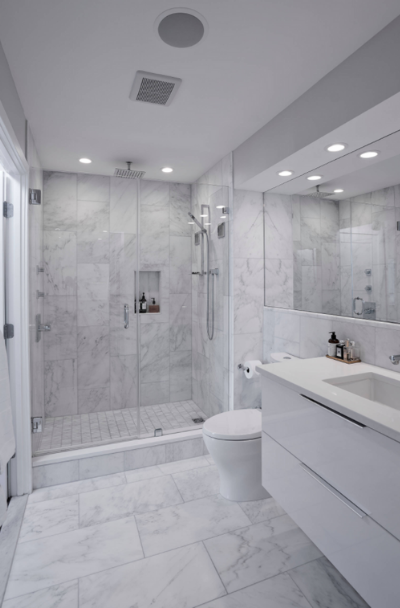 The marble effect on the tiles provides a subtle texture effect in the bathroom.
Why Choose A Minimalist Bathroom
Will you and your bathroom be the perfect candidates for a dazzling minimalist setting? Modern bathroom, in addition to a minimalist style bathroom, is a great example of the interior perfection to enhance the room and capitalize on the look with a minimum of guest bathroom decor and appliances. Minimalist apartment bathroom ideas are likely to have a neat and clean look, as a result of the absence of bulky materials and excessive storage. Minimalism is a design that might make a bathroom interior design appear sophisticated, modern, convenient, and comfortable. And naturally, almost all of these attributes may be accomplished with the little use of accessories and furniture. It may be fairly hard to develop an area within this design since special skills are required by it to organize everything in the very best method with the little use of items. Minimalism is a design that includes tough lines, shapes, and simple colors. 
A minimalist touch is generally added to clean surfaces, an absence of ornamentation, sculptural collections sleek fixtures, easy geometric shapes, sleek, sculptural lines, etc. The showers & tubs are visually attractive and also, of course, enjoyable to make use of. The sole add-ons which are generally present in the Japanese style bathrooms are natural cotton towels as well as indirect lighting solutions. Because the minimalist design is nature-inspired, hardwoods, along with earthy textures of stone, are standard substances for minimalist style bathrooms. When looking at color, again, you need to follow neutral and calming tones, like beige, white, blue, and gray.
When developing a minimalist bath area, skills are needed to produce a balance between what's not enough and what's way excessive. It's also about harmonizing a room and also producing a great balance of leaving specific areas in an area void of accessories and furnishings. For a minimalistic aesthetic bathroom look with a powerful industrial feel, the usage of concrete may be the ideal option for you, because you are able to match them up with various other styles & textures in your bathroom layout. As a situation of reality, concrete floors are a natural choice.
Natural woods are among the most famous substances in the luxury & minimalist design industry. Raw wood, particularly, has got the benefit of getting a soft, lingering fragrance, and also patinated brass has a warmth coming from age. When you're thinking of betting on a spa-like vibe on your minimalistic bathroom design, which may be an invaluable resource turning to.
SIMPLICITY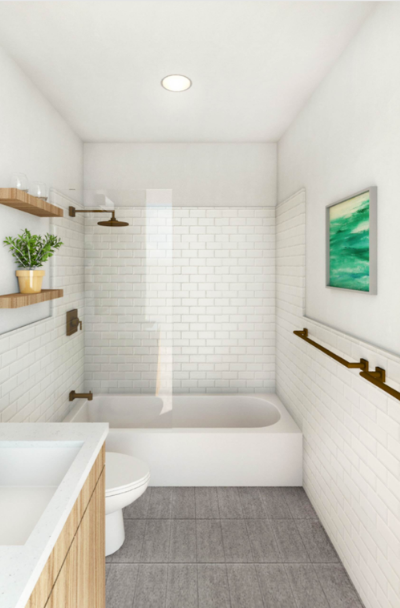 The addition of wood accents is able to bring warmth to the whole area.
LUXURIOUS
Enjoy a peaceful and relaxing bath in a luxurious spa-like experience in this bathroom.
DREAMY
A large bathroom layout complete with a toilet, bathtub, and shower enclosure.
URBAN ZEN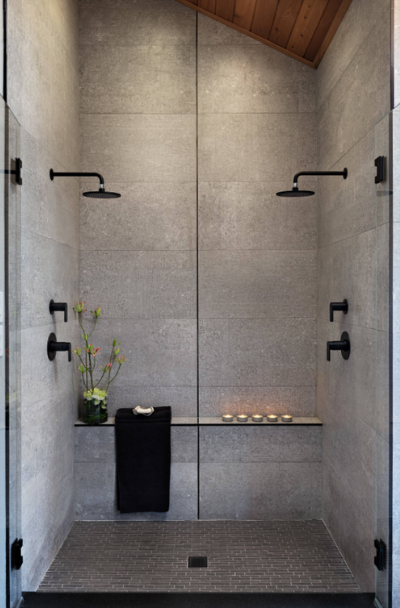 A small space will not hinder you from having an urban zen shower experience.

Tips For Organizing A Minimalist Bathroom
Minimalism in interior design provides the feeling of an area that is neat and clean; therefore, this particular design is ideal for the style associated with a contemporary bathroom. Room bathroom style is indicated by straightforward minimalist decor and bathroom furnishings with lines that are clean. The excess is vacuumed as well as the bathroom is always clean. You are able to set gorgeous accents through their wise use of substances, textures, and colors anyway. Include an intriguing twist to the minimalist bathroom – a rustic touch. For instance, a minimalist and cool bathroom earns a bucolic touch out of the wood shelf, which can serve as the sink counter. A couple of potted plants put pops of color & a refreshing look.
A contemporary bathroom includes grey walls, modern-rustic shelves, wood-themed flooring, and charming rustic decoration. Extraordinary lighting installations with behind-the-mirror mood lamps and amazing silver pin drop lighting fixtures give the bathroom an edgy modern plus captivating vibe. Take the monotony from your modern minimalist bathroom with exceptional and sharp cabinetry. Cabinetry with warm wood tones of a minimalist bathroom can counter the great & mainstream pristine white walls and grey and black accents. Marble is an elegant, timeless, and beautiful bathroom feature. Adding marble for your minimalist and modern bathroom will instantly inject an elegant and luxurious look while maintaining the thoroughly clean lines and uncluttered design of minimalism.
A number of vintage pieces put into the modern, and bright bathroom interiors give it a captivating and unique look. A contemporary bathroom with white walls & ceilings, grey patterned floors, a geometric chandelier, a set of old paned windows, and an eye-catching vintage and also golden faucet ensemble will complete your minimalist bathroom. Accessories and furniture with a simple style can possibly enable you to obtain an area minimalist without being too sterile & empty. The couch is useful and usually without handles. Geometric shapes and symmetry are clearly normal of the minimalist decoration. Go for colors that are light like gray and cream. Play with various textures and shades.
HILLSIDE
The bathroom has an outdoor shower extension for added flexibility.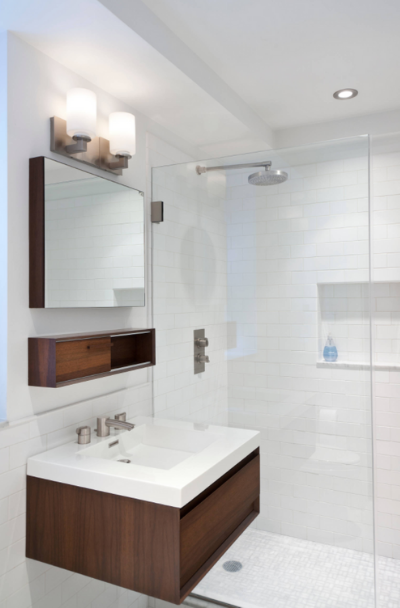 Keep things simple and at a minimum to have a bright & serene feeling.
The "spark" tile from Villa Lagoon effortlessly becomes a focal point.
EAST-COAST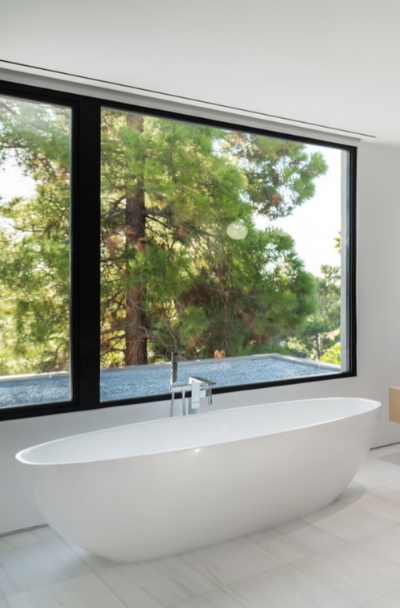 A modern bathroom remodel with an infinity pool outside.
NATURAL PRESENCE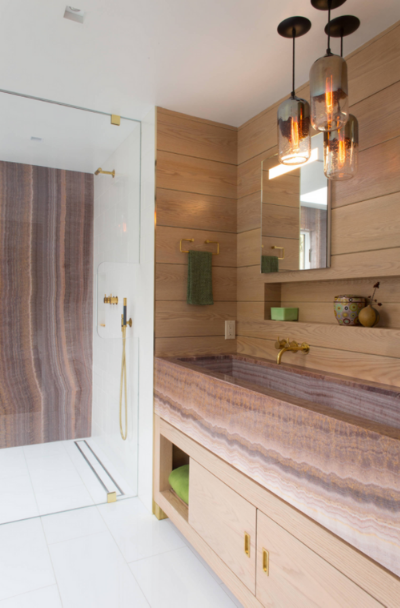 This bathroom features custom white oak shiplap wall paneling.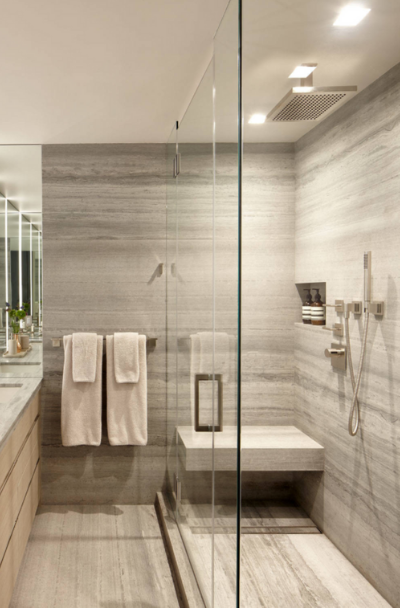 The bathroom has his and her sinks and a shower enclosure.
Tips On Creating The Perfect Minimalist & Modern Bathroom
The bathroom appears to gather items faster compared to some other areas in the home. Half clear plastic bottles of shampoo line the tips of the tub, teeth brushes are tossed right into a cup beside hair products and the sink, face creams, along with ointments assemble in a bin under the sink. If this seems familiar, perhaps it is time to change your bathroom right into a minimalist oasis. Pick neutral colors, like grey or white, for the wall space plus scatter additional neutral tones throughout the area as accents. This will keep the bathroom feeling open & bright still in case you have zero windows and improves the natural light in case you have a little.
A mess is a minimalist's worst headache. The real key to attaining a minimalist bathroom is eliminating the mess. This means no far more toothpaste tubes strewn over the counter, hairbrushes tossed directly into overflowing baskets, or maybe too much decor perched smartly on shelves. Although the wall space must be held pretty light, earning darker elements, like dark hardware, could create a bold statement without earning needless objects. Incorporating touches of concrete or wood to offset an all white-colored bathroom adds warmth and texture to the bathroom while maintaining an easy visual.
Merely since you've additional storage area, it does not suggest you have to seal it completely. Keeping empty space clear and only using what you truly need is crucial to attaining minimalism within the bathroom. Anything you bring to your minimalist bathroom should be equally functional and beautiful. There is absolutely no space for items that do not serve a purpose. Make certain that also the basic things, such as a towel rack or maybe a soap bottle, conduct their function beautifully.
Bathrooms, no matter if they are on the bigger side, are not always the largest areas, and if you throw in a bath or maybe tub, a sink, along with a toilet, they get even smaller. Topping that with busy stone patterns, flooring, along with ornate fixtures, could be visual overload. On the other hand, you're able to have things completely clean and very simple with a minimalist look that can give itself to a soothing getaway in which we really love spending our time.
CLASSIC FLAIR
The bathroom looks larger than it actually is with the large windows.
NEUTRAL COLOR
The wood ceiling offers a warm and calming feeling to this bathroom.
Careful Considerations When Designing A Minimalist Bathroom
Picture this—a gleaming white sink, totally free of seldom-used items, along with toiletries. Fresh, sleek surfaces; little design. Not a toothbrush or container of hairspray or filthy towel on sight. Does this seem much like your bathroom? Maybe not yet, but don't worry, we will get there. Achieving that kind of space is possible. If you are inundated with clutter each time you walk into the bathroom of yours, it might be some time to consciously change your disorganized bathroom into a minimalist one with a modern feel and look. Make sure you check out our photos and ideas for inspiration.
There are lots of fans of the design of "less is more" or maybe minimalism in that the focus is positioned on a clean look and minimum elements. Nevertheless, it is really simple in the small modern bathroom to break the lovely appearance with needless details and accents. Consequently, we give you a couple of tips to keep the bathroom's minimalist atmosphere and what sort of accessories to use. One of the greatest methods to get into the bathroom minimalist feeling of luxury and style is the plants. In the bathrooms with some spaciousness, include several plants that are tall and don't occupy much space and are going to become a center point.
A bad thing that happens in decorating minimalist bathroom styles is the sterile look. In order to help make the space a bit warmer, use products that are loaded with texture and that are in comparison with the glossy and smooth elements. This may be bin, wooden chairs, and even old ladder for dangling bath towels. Frequently, the colors belonging in the minimalist bathrooms are white, cream, beige, gray, etc. You don't have to make excellent initiatives to separate the monotony of these basic colors. Your bathroom is going to come alive with just a few things in color. An additional way to bring the color to the basic bathroom, is the usage of patterned material. It can easily stay in the form of mats or towels.
Minimalism is not only a style; it is actually a way of living. It is virtually cutting the majority from your life—not simply about simple and sleek home furniture, but additionally adopting a "declutter" strategy. And when there is one particular location just where it will pile up, it is the bathroom. Bottles, towels, clothes appear to magically accumulate in sides and shelves. The bathroom is very easily among probably the smallest areas in the house. And so, skip additional accessories which make it appear to be cluttered and disorganized. Simply choose one or perhaps two decor pieces that will not crowd surfaces for a fresh, neat look.
This is an image roundup post, curated to showcase and promote other reputable contracting companies' and their amazing work.  To have any of the images removed, please reach out to us and we would be happy to do so.
The post 23 Minimalist Style Bathroom Design Ideas appeared first on Home Remodeling Contractors | Sebring Design Build.