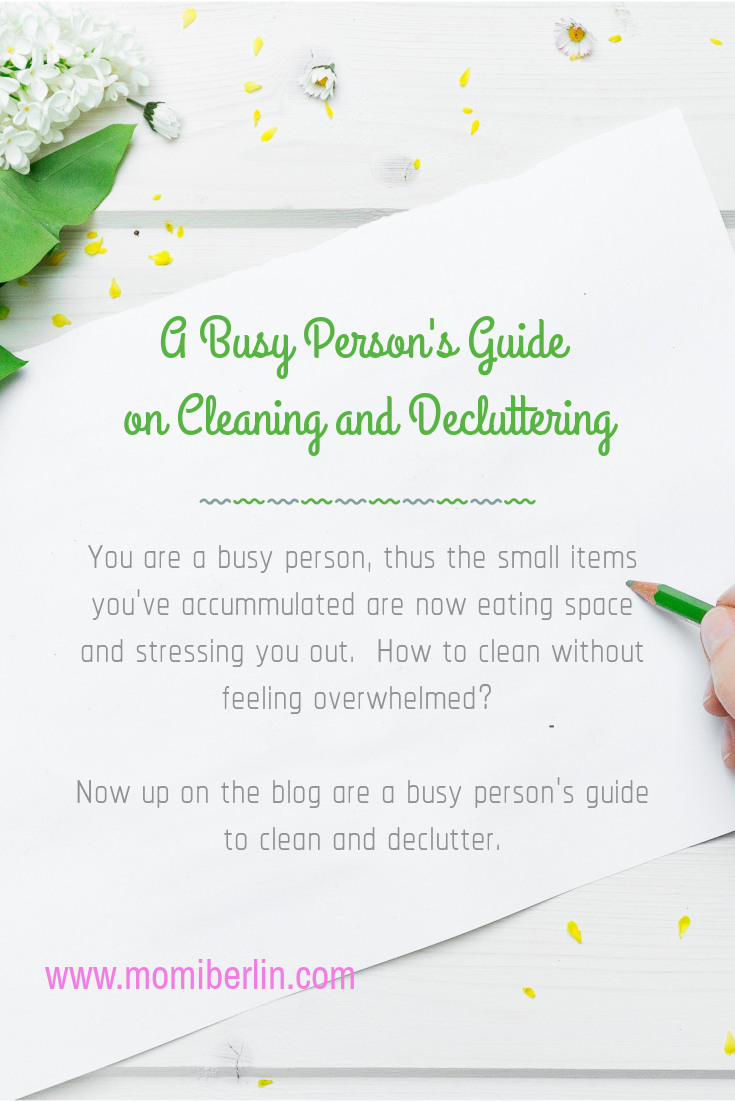 It all started with a box.  You intend to clean your clutter.   So you end up junking all unnecessary "I still can't decide where to put you" things inside that box. And then you told yourself to have a break, and you forgot about it.
You know and accept you are a busy person.  But those small items that piled up are now eating your space and are stressing you.  How to declutter then without feeling overwhelmed? Momi Berlin makes it all simple with this easy to follow busy person's guide to cleaning and decluttering.
Avoid buying crate boxes
When we shop, we can't take our eyes off those colorful craft and crate boxes- big or small.   We readily buy them thinking we've got several items just perfect for them. And the more boxes we acquire, the more stuff we purchase as well, considering we've got a place for our new buys. So to avoid putting things inside those crate boxes, don't one them in the first place. 
Clean as you go
As you eat your breakfast or drink your coffee, make it a habit of washing your plates and utensils instead of leaving them in the sink.  Surely, you do not want a messy sink piled high with dirty dishes. You do not have an option but to wash them anyway. So to lessen the time and stress scrubbing those pot, pans, and dishes, wash them after use.
The same is true with your dining table; wipe it clean after each meal—the same with your bathroom. Avoid one big cleaning as you probably make excuses every time it is time to clean.  Clean as you go. It would take about five minutes only to scrub your floor tiles and sink. Frequent scrubbing would prevent those rings from forming in your toilet bowl.
Practice 15 minutes clean time once a day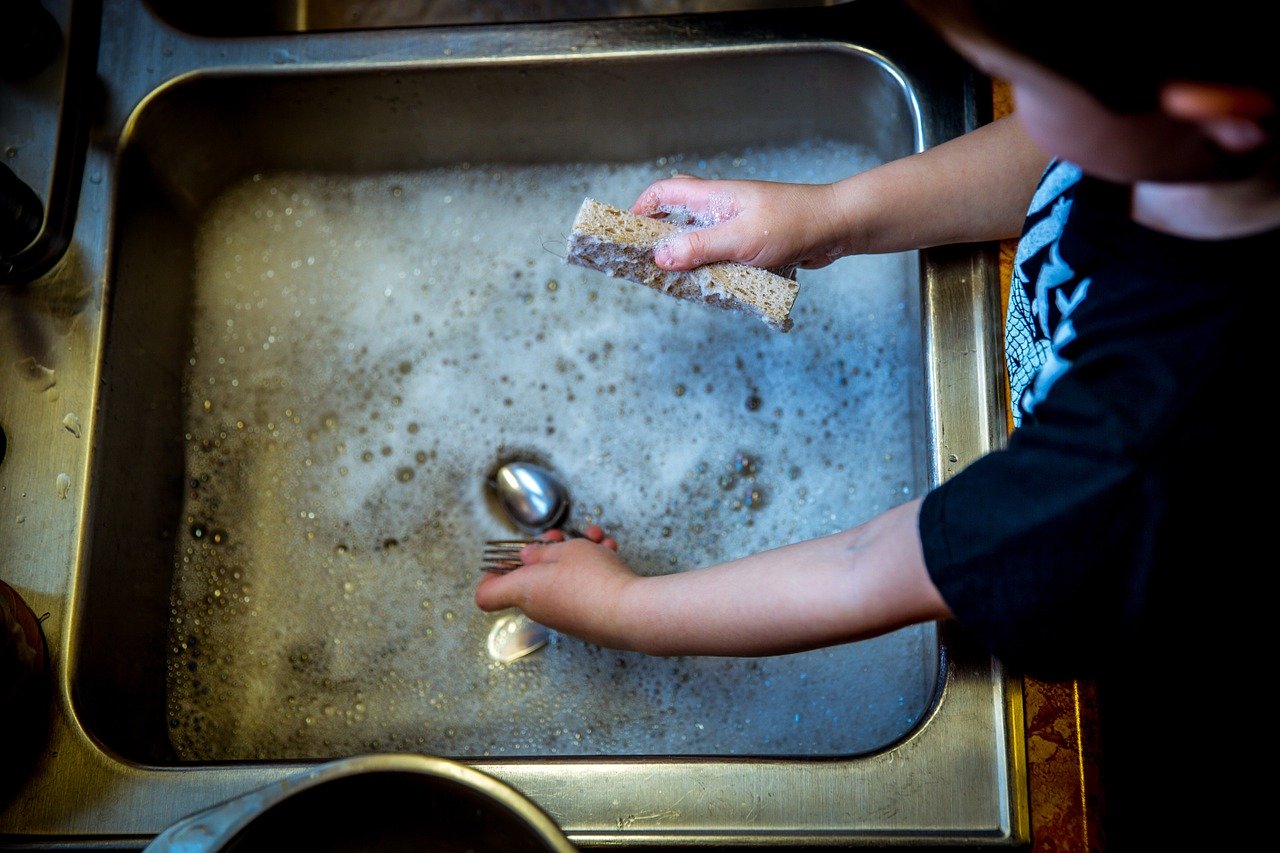 You will be amazed at how much you could do in 15 minutes. Make it a habit to start small and remove clutter one at a time.  You may opt to sort through your mail or remove those clean cups from the rack to the cupboard. When the timer rings, stop.  The secret here is to clean one at a time for you not to be overwhelmed and all the more be discouraged.
Make cleaning hip and fun
You love listening to Ed Sheeran or sipping wine.  How about iron a few polo shirts while sipping your favorite wine? That way, you lessen the pile of clothes scheduled for ironing.  Or perhaps dust off a few pieces of furniture while swinging to the music of your favorite artist. You may develop a little liking for those activities after you've considered doing it together with things you love doing.
Use cleaning hacks
You just hate cleaning your bathroom or kitchen.  Clean tough stains in the toilet, kitchen sink, and even shower head with white vinegar.  Let it stay overnight, and the next morning, you now have a sparkling bathroom, kitchen sink, and even a showerhead.
Delegate or pay kids to clean
Do you remember when you were assigned a cleaner of the day at your school before?  Teachers asked students to help in cleaning the classroom as part of their homeroom participation.  So why not ask your kids to help in folding the clothes or washing the dishes? They could even mop the floor and do a little dusting.  A tub of ice cream or a new book as a reward is not that bad at all.
Level up your cleaning power with a vacuum cleaner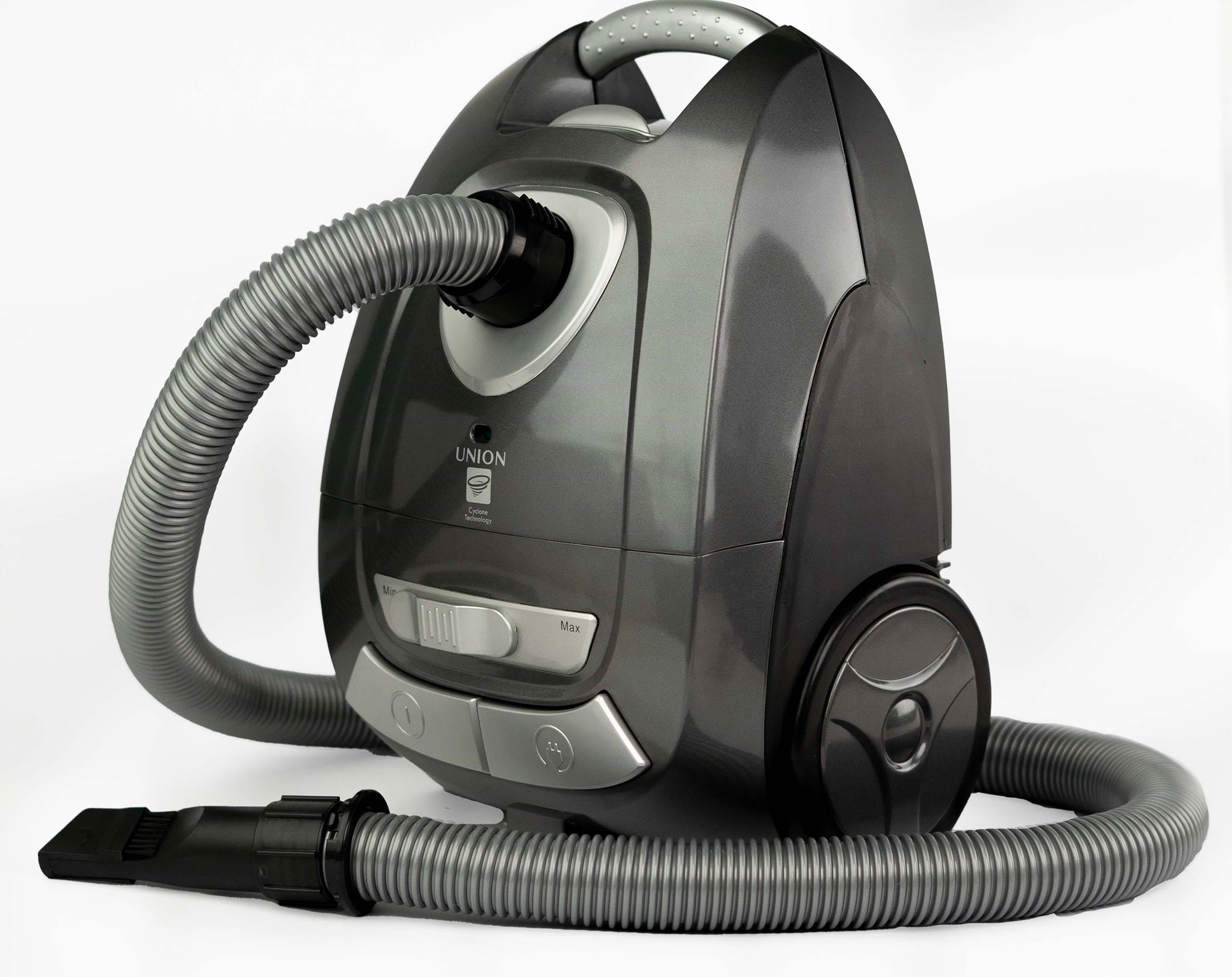 A Busy Person's Guide on Cleaning and Decluttering
Vacuuming is an effective way to keep a home clean. It's quicker and more thorough to use a vacuum cleaner to suck up dirt and debris. It can also remove allergens, pet hair, and more from your floors, curtains, and furniture. So whether you have hard surface floors or carpeting, a vacuum cleaner can do so much more than a broom and mop.
Vacuum cleaners come in many forms, with different uses and features. From upright vacuum cleaners to handheld canister vacuums to automatic robotic units, there's sure to be a vacuum cleaner perfect for your needs.
One vacuum cleaner we love to use is our Union Canister Vacuum Cleaner.  It is affordable and versatile but at the same time, dependable and effective. It excels at sucking embedded pet hair and dust particles. With a 2.5L capacity and handle air suction control, it can tackle many different surfaces very well. The included brush is perfect for bare floors that are prone to scratching.  Plus, using it doesn't take hours as it quickly sucks dirt compared to sweeping the floor or scrubbing the carpet. We got our Union Vacuum Cleaner on Shopee.
A Busy Person's Guide on Cleaning and Decluttering
These are just a few of the many more ways to tidy home the busy person's way.  The best way still is having less stuff and living a minimalist lifestyle. 
Do you still have closets and drawers full of new and unworn clothing and accessories, usually with the price tags still attached? We just love to buy anything we fancy, especially if they were in the sale.  Thus, living a minimalist lifestyle is something we need to master still. But might as well start with these tips, and following them, we are inches away from living in a tidy home.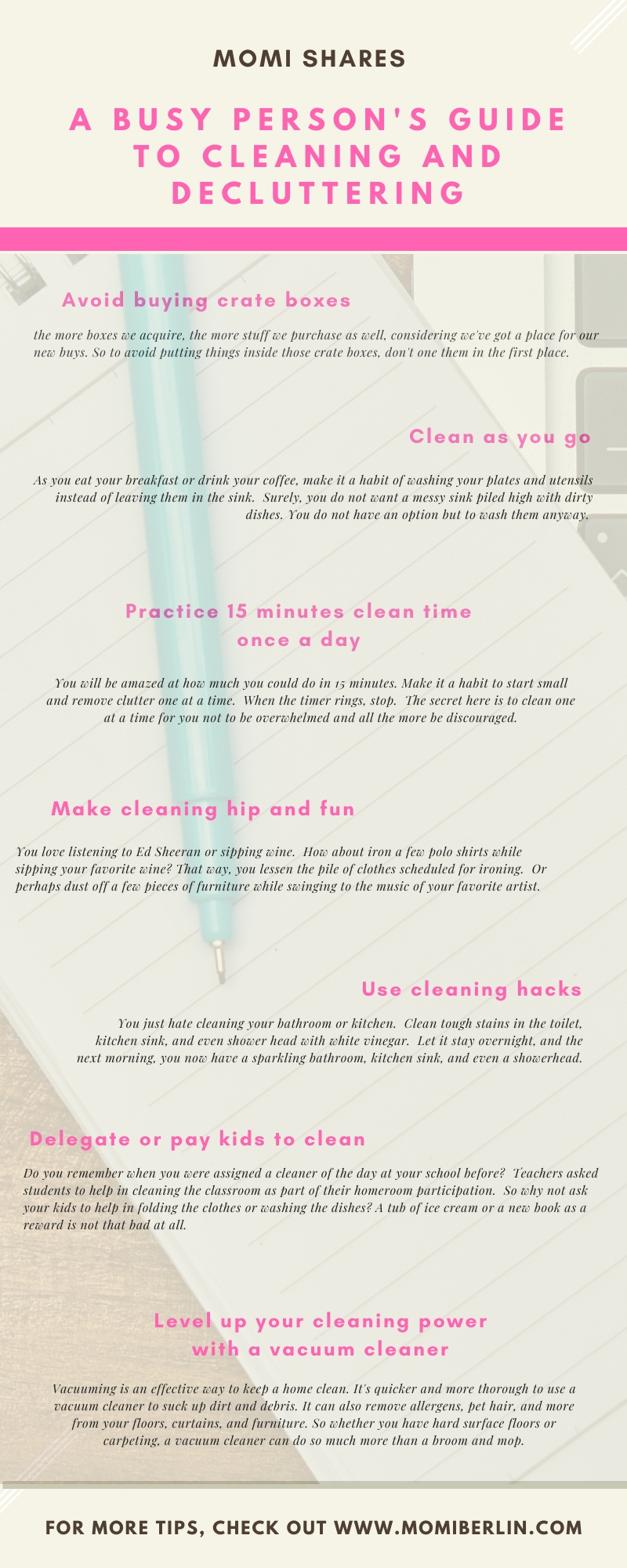 The post A Busy Person's Guide on Cleaning and Decluttering appeared first on MOMI BERLIN.