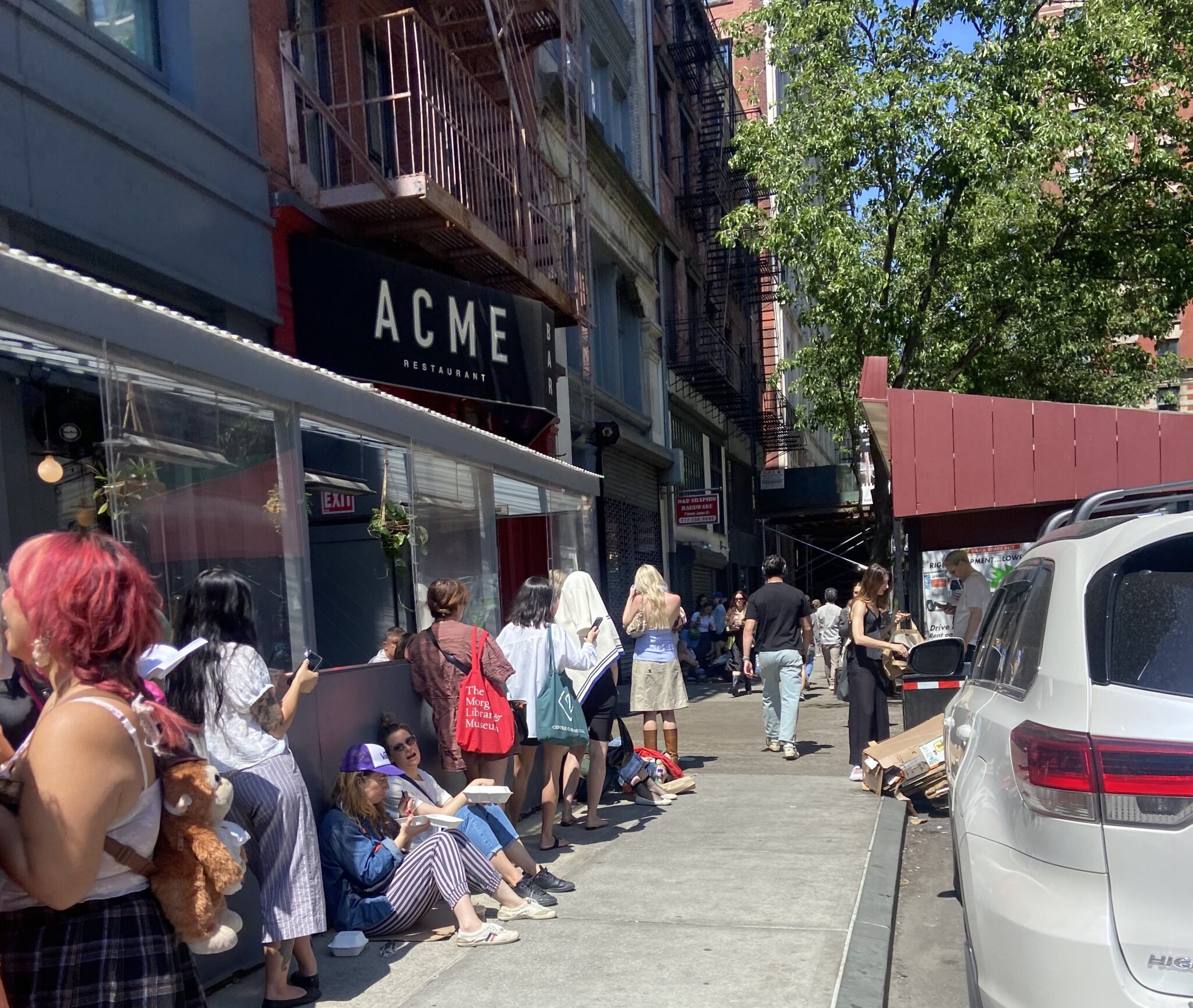 In the high noon heat of the big hot sun, the intersection of Broadway and Lafayette was an ouroboros. A snake eating its own tail, a snake that was not a snake at all but actually a line of mostly women—who were nearly all young and definitely all well dressed—waiting to go inside a NoHo loft to go shopping. But okay—this was not some sort of run-of-the-mill sample sale. No one waiting in that line was there just because they were looking for a little something to do on a Sunday morning in May. These girls were in line because inside that loft was a woman named Chloë Sevigny. She was there because she was selling her clothes. These girls were waiting in line because the pot of gold at the end of the rainbow was Chloë's stuff, at an event quite literally advertised, in the promotional materials, as the Sale of the Century.
It is not that insane to wait in that ouroboros of a line for three hours, when you think about it. She's Chloë: Harmony Korine's muse, wearing bleached eyebrows in the movie Gummo. Dancing to the O'Jays' "Love Train" in a subway car in Whit Stillman's The Last Days of Disco. Appearing naked and pregnant on the cover of Playgirl. She's the kind of celebrity who can get her one million Instagram followers to wake up early on a Sunday to buy her toothpaste. The second the sale began, it was already a viral event—like Black Friday for fashion-school freaks. TikTok, Twitter, and Instagram were flooded with vibey haul videos, memes implying sartorially motivated violence, posts about new female friendships forged in line, allusions to the Bush presidency, and suggestions that maybe you could find a girl to date among the racks? And most importantly: a reminder that "if you're in line for Chloë Sevigny's storage-unit sale, please stay in line." It is true that a specific subset of New Yorkers  seemed to be saying (or posting), "chloë sale! chloë sale! chloë sale!"
To be clear, I am one of these girls, a lover of Chloë, someone who has spent years showing the stylist at the hair salon a picture of her in Kids. But I did not have to stand in the ouroboros of girls, for a few important reasons. The first is that Chloë wasn't the only person selling clothes in NoHo that afternoon. The Sale of the Century was actually put together by Liana Satenstein, a former Vogue staffer who organizes closet clean-outs for fashion icons. In addition to Chloë's stuff, the sale also featured selections from the closets of Sally Singer, the former creative director of Vogue who now heads fashion at Amazon; Lynn Yaeger, a Vogue contributing editor known to wear whimsical Comme des Garçons frocks; and the longtime Paper magazine editor Mickey Boardman. I was Sally's assistant at Vogue when I first moved to New York, once upon a time. Therefore, when I arrived at 676 Broadway at 11:55 A.M., I sent her a text and floated to the front of the line with my friends Anika and Sage. The other reason we got to skip the line is because it was my twenty-seventh birthday, and sometimes when you turn a new age you get lucky. 
At the sale, in the loft, were, predictably, racks upon racks of clothing, some of the items costing hundreds of dollars, or hovering around a thousand. Still, some of it was very reasonable for good-quality designer vintage. A wall of antique Victorian blouses with high-necked, intricate embroidery, more or less all under a hundred dollars. A literal chess set from Chanel, priced to sell at $450. A gray Brooks Brothers suit with shorts instead of pants. A reddish-pink ballerina skirt with a Blumarine vibe. A scarf commemorating the nuptials of one Prince Charles and Princess Diana. Prada purses and a pair of Birkenstocks. A lot of it looked like normal vintage clothing—it was better curated, but the items more or less achieved their mystique because of their former owners. 
And the people: it was not as crowded inside as you would expect, but it was still crowded. And the media: an army of photographers from every fashion magazine in New York, asking the shoppers their age, their job, how to spell their names. Blasting from the speakers was electronic, compressed, sugary music that made me feel like I was in a movie about going to a Chloë Sevigny closet sale. A girl with drawn-on eyebrows was wielding a vintage camcorder, walking around and interviewing shoppers. A mother with blue hair and her twenty-something daughter told me they had gotten in line at 9:30 in the morning. I heard a rumor that a few girls got in line at 6 A.M., and it doesn't really matter if the rumor is true. There were club kids in platform sneakers and fashion gays in polo ties; girls with shaved heads in tattered slip dresses and girls who dressed like little orphans from a sketch by the hand of Ludwig Bemelmans. Anika got photographed by W magazine and gracefully changed in front of the photographer into the new outfit she had just purchased—the Brooks Brothers suit and a baby-doll blouse—like some kind of movie star. At one point I accidentally began to talk to a reporter from the New York Times, answering his questions—(my name: Sophie; my age: twenty-seven, as of three hours ago; what I was doing here: shopping for various items)—before he abruptly stopped when he realized I too was a writer.
And Chloë was there with her son, a beautiful little three-year-old boy with a halo of blonde curls. Mostly she sat on a couch by the back entrance to the loft, but she wandered into the dressing area too. In fact, she walked past me as I was trying on this bizarrely baroque white linen horseback riding suit. It seemed reasonably priced at eighty-five dollars, fit me perfectly, and made me look like a tragically beautiful stable boy in a Watteau painting. "Looks great," she said as she watched me check myself out in the mirror. "I wore that to dinner with Nicolas." (She meant Ghesquière, the legendary former creative director of Balenciaga). Obviously I bought the suit. What would you have done if you were in my situation? Sage and a nineteen-year-old twink in Marie Antoinette makeup were told by one of the reporters that they should get married because, in Sage's words: "We didn't beat each other up over what was best described as a Union soldier cosplay crop top." 
I walked around and observed, pretending I was a feudal lord of a different époque and that all the shoppers, these girls and gays in their opulent little outfits, were my beautiful serfs. I said hello to Sally and locked eyes with Tommy Dorfman. I saw on social media later that day that Chelsea Manning had been there too—the Daily Mail had written about it, calling her a "35-year old security consultant." I leafed through Lynn Yaeger's rack of Comme des Garçons skirts and briefly considered buying a see-through purple Gucci blouse from Sally. I ended up making two important purchases, both from Chloë's rack: the baroque horseback-riding thing and this gorgeous sleeveless Victorian blouse with a high neck, priced at sixty-five dollars. Then I was shepherded outside by a crowd-control person who gently suggested leaving now that I had completed my shopping. 
The line was still incredibly long—only forty-five minutes had passed. A frantic British woman in hangover sunglasses came up to me and asked if I thought there would still be clothing if she got in line now. I said probably not. What I wanted to say was: Save yourself babe, it is really crazy in there. 
We left, and Anika and I walked into the Village. I stepped inside of a café bathroom to change into my new riding suit thing and splash cold water on my face. The buzz of my morning caffeine had dulled and I now felt exhausted leaving the Sale of the Century. I got on the F train to go to Red Hook and when it went above ground at Smith and Ninth Street suddenly it was summer and the music in my headphones was Prefab Sprout and New York looked like a big fantasy snow globe that you could buy at a gas station somewhere very far away. As it turned out Ihad stayed up until 5 A.M. the night before and slept with my ex-boyfriend; I texted him a procedural question about what had happened and he said that twenty-seven was going to be the best year of my life. And how could it not be? I had my new clothes. I was living in Chloë's New York.
Sophie Frances Kemp is a writer in Brooklyn, originally from Schenectady, New York. She has published non-fiction in GQ, Vogue, and The Nation, and fiction in The Baffler and Forever. She has a forthcoming novel called Paradise Logic.