I've been missing spring, despite the fact that it's all around us here. 
In the blocks surrounding our home, Jasmine plants are dripping over fences and climbing up light posts, ducks are pairing off and tending to their eggs along the canals, and a myriad of pollinators are touching down into bursting gardens.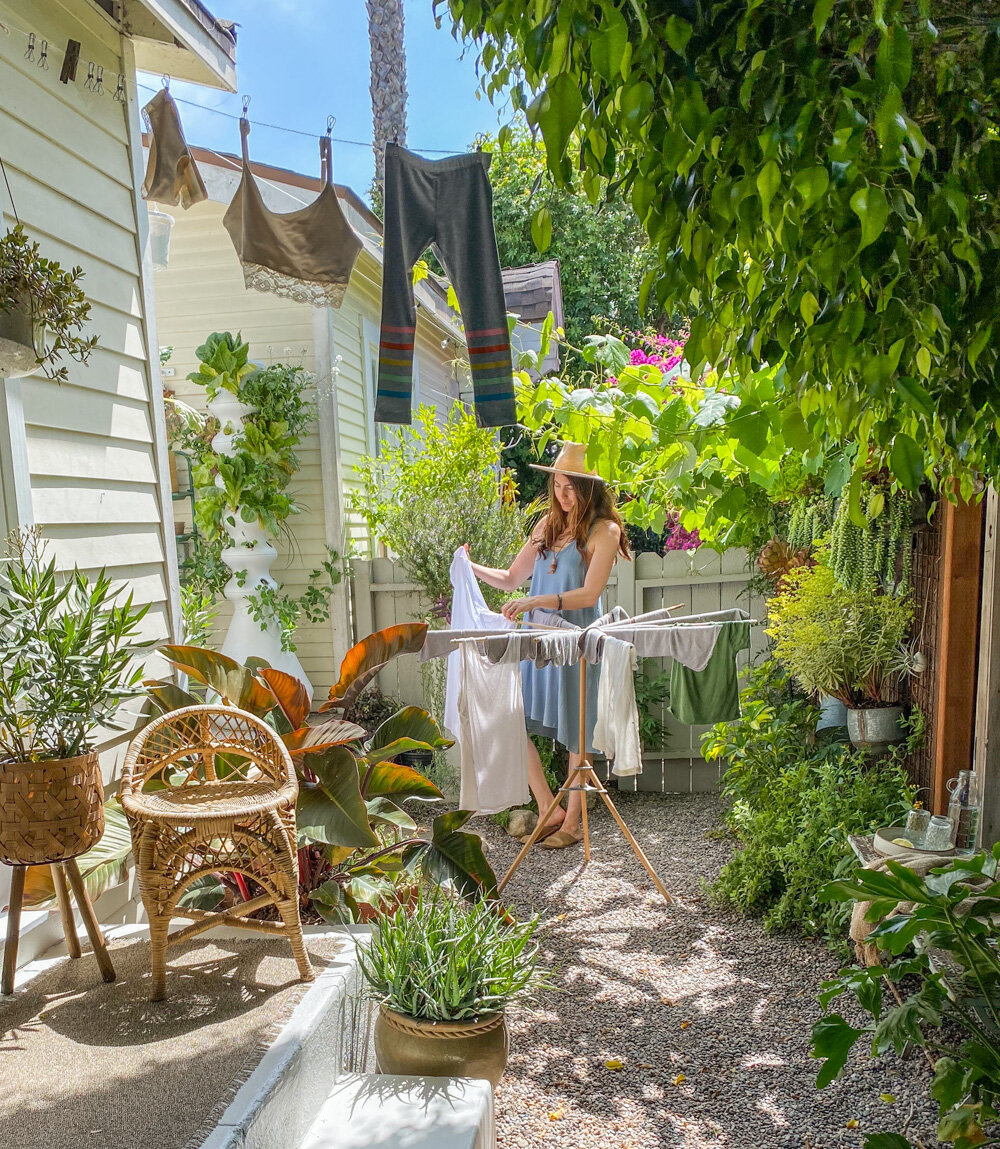 But, since we we're on our 9th week of strict social distancing here at our <400 sqft home, I'm only experiencing the season by pulling from memories, and from the narrowed scope of our tiny lot here in Venice.
Thanks to steep reduction of auto transport in this time, we can hear birds flying over our cottage, the waves crashing on the beach, and the sea lions barking in the marina. Through our skylights and on our shared porch, we can feel the light changing as the sun beams down on us longer and with increased intensity. 
In order to best enjoy it all from this sliver of land, we've been making the absolute most of our outdoor spaces— now more than ever before.
Four years ago this month, Adam and I were married on our tiny front stoop. We said our vows under the pendant lamp (that we forgot to turn on,) while our friends and families stood around us, both inside the house and out.
Since then, we renovated our outdoor spaces and poured sweat and love into our garden and porch. But over the course of those larger projects, our little stoop itself and the surrounding yard/pathway suffered some neglect. 
As this part of our home sees some of the highest traffic, we felt it was time to give it a good scrub, some fresh paint (an imperfect match, as we worked with what we have on-hand to avoid an unnecessary trip to the hardware store), and a deeper appreciation of how our family seems to have limitless experiences in this limited space.
We paid close attention to how we used the stoop and side yard within a 24 hour stretch. Within a day it was a place to:
Read books with our son

Dry laundry (both via a makeshift clothesline and a collapsible vintage rack)

Take on/off our shoes (and masks) for our quick dog walks

Tend to our container and vertical gardens

Pluck mint to drop into our mason jars and share glasses of water in the sun

Check in on the fairies and add to their garden

Chat with our neighbors across the fence 

Play with the pups

Blow bubbles

Watch a few episodes of Sarah & Duck via the projector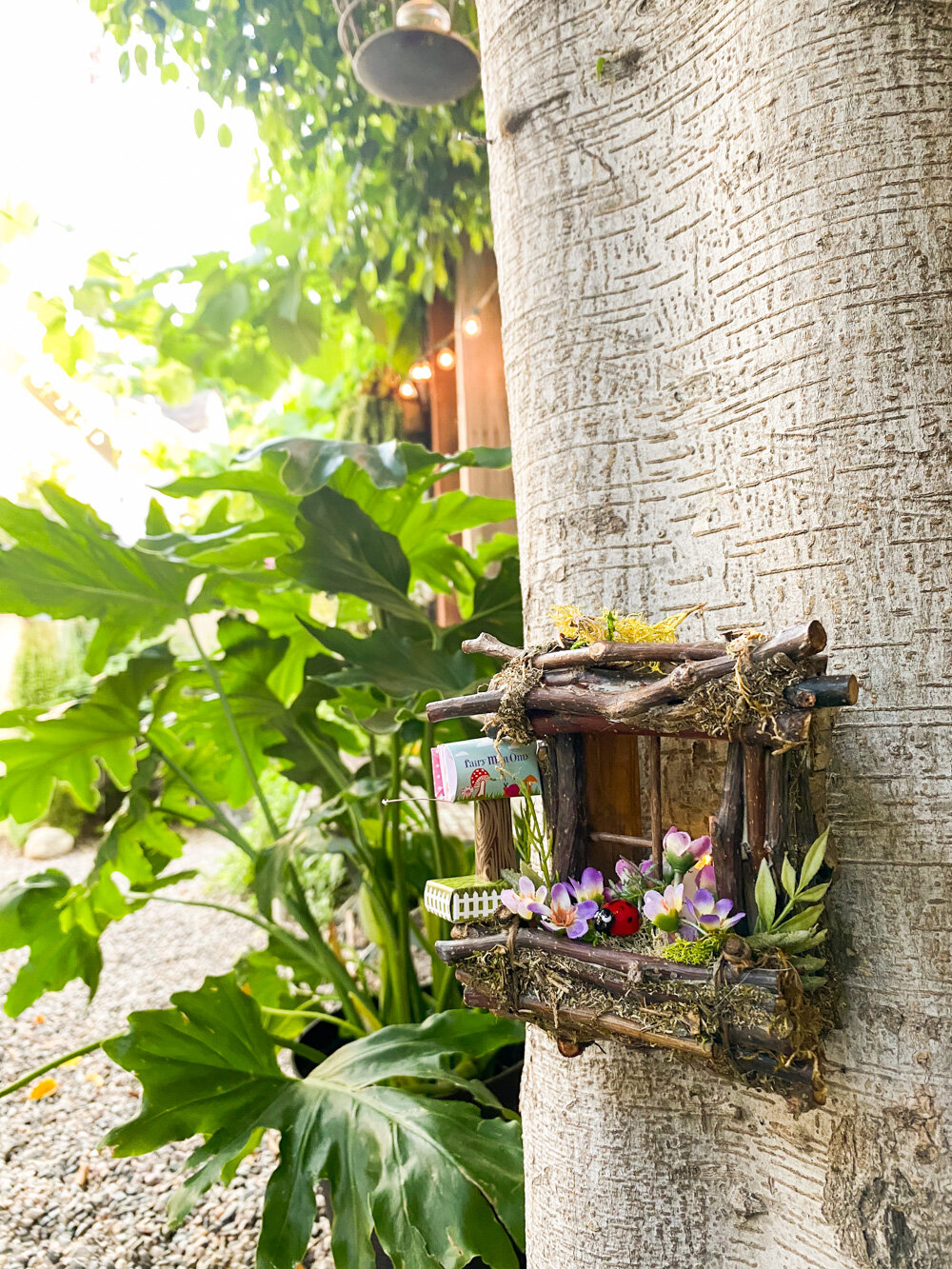 When we first moved in, we were gifted two lovely, low + wide terra-cotta planters with boxwoods, which sat on either side of the stoop. They were simple and pretty, but they consumed valuable inches that, with a bit of creativity, could be used to enhance everyday life. 
Since then I've styled this area to be practical, versatile and suitable for our lifestyle and climate. (Those planters are still being put to excellent use 9 years later… just not right here.)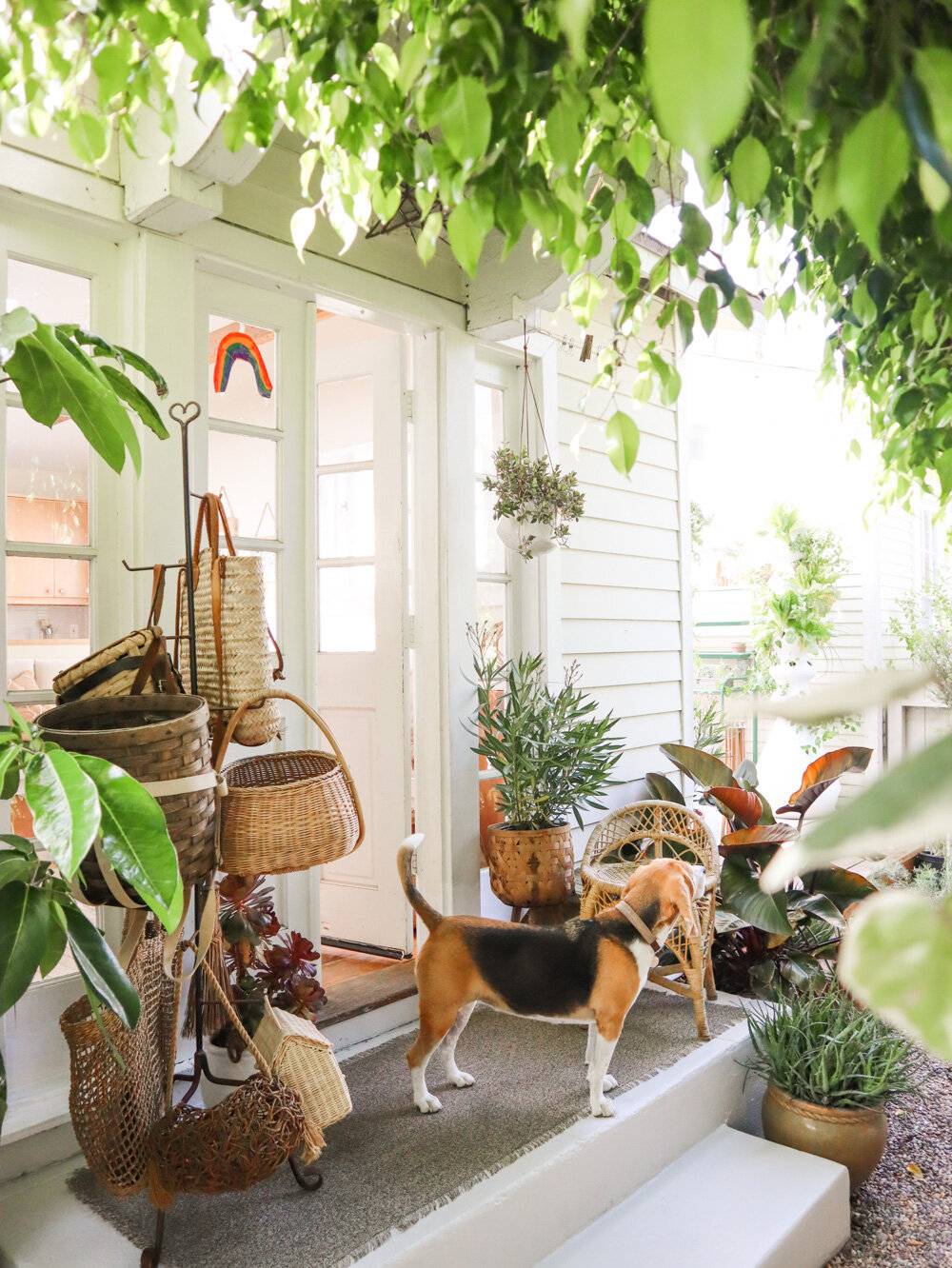 Instead, I've filled our welcome area with smaller plants— one on a pedestal and one suspended from above— to save space without losing the impact of greenery. 
I decided to forgo the traditional doormat, and opted to use a squat runner-style outdoor area rug instead. This expands the stoop visually, and makes it feel more like a miniature room than a step. 
On one side of the doorway, a low vintage chair creates the perfect petite perch for putting on / taking off shoes, sorting mail, corralling toys neglected throughout the garden, and gathering leashes.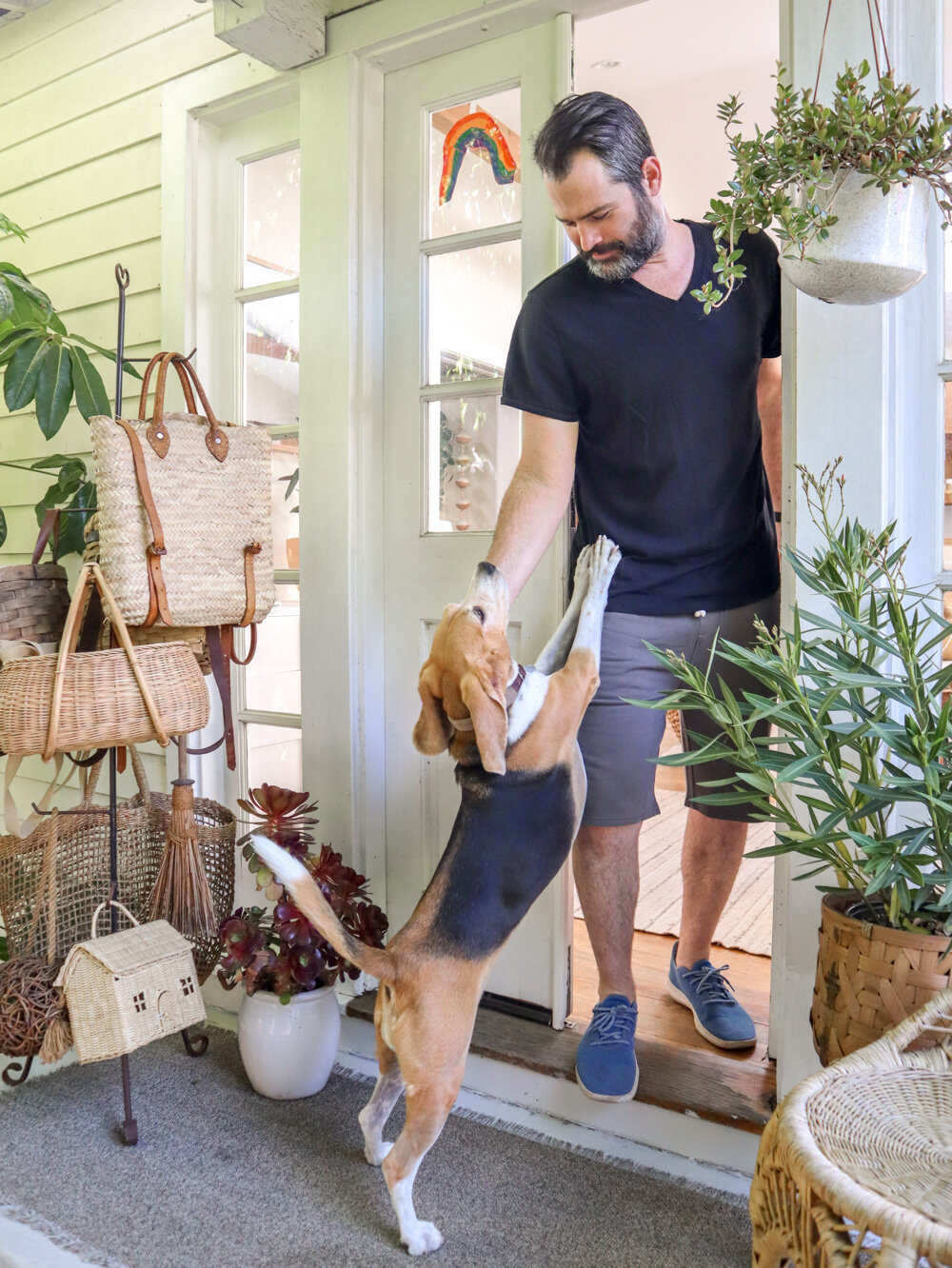 On the other side, a vertical rack holds a hand broom, our sun hats, and baskets that we once used daily on our trips to the library, local bakeries and farmers markets.
Now, as we shelter-in-place during the pandemic, the baskets are being put to use in various playful ways throughout our home and garden, and contain a few odds and ends as makeshift storage containers.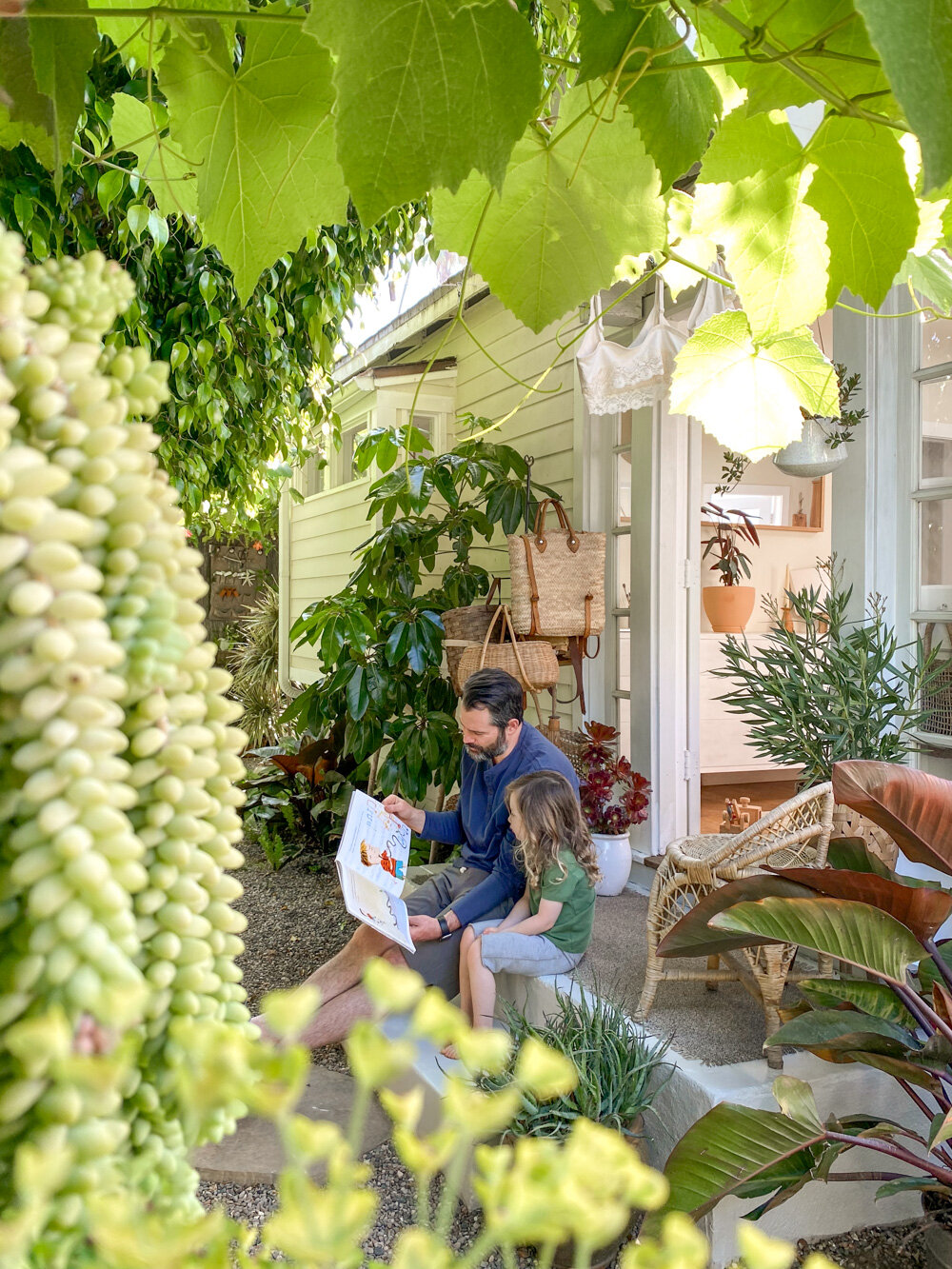 A ceramic dog bowl tops it all off, as this is where the dogs rehydrate after barking loudly when the mail gets dropped off, or after our (sadly abbreviated) walks.
A small stoop can be magicked into something so much greater with the help of a few key accessories. 
For example:
Hanging tiered troughs from either side could enhance privacy while offering valuable space for a vertical garden. 

Slim rolling carts can organize most-used shoes and reusable bags + to-go containers. 

A compact storage bench can house necessities and double as a reading spot with the help of a cushion and a throw pillow. 

With clever hardware and a bit of handiwork, wall and overhang hooks can hold everything from collapsible strollers to umbrellas to bikes. 
It's not just about creating more space. (If we wanted more space, we'd explore finding a bigger home.) Instead, it's about using what we have to the fullest, and finding creative ways to enjoy the same handful of inches in an endless permutation of ways as the years go by. 
We don't take any corner for granted. Each bit of space is either used in movement, or to grow something green to aid in cleaning our air, providing bugs with a place to live, and giving soil (and compost from our tumbler) a place to thrive and regenerate.
I never realized just how important soil is for our overall wellness until recent years. The way it impacts the food we eat and the fabrics we put on our bodies is hugely important to our human and planetary health. Our bodies absorb not just what we ingest and apply, but also traces of what we wear.
Throughout the imagery in this post, the three of us are  mainly wearing Pact fair trade clothing, made with organic cotton + linen that not only feels good on the skin, but is good to the skin.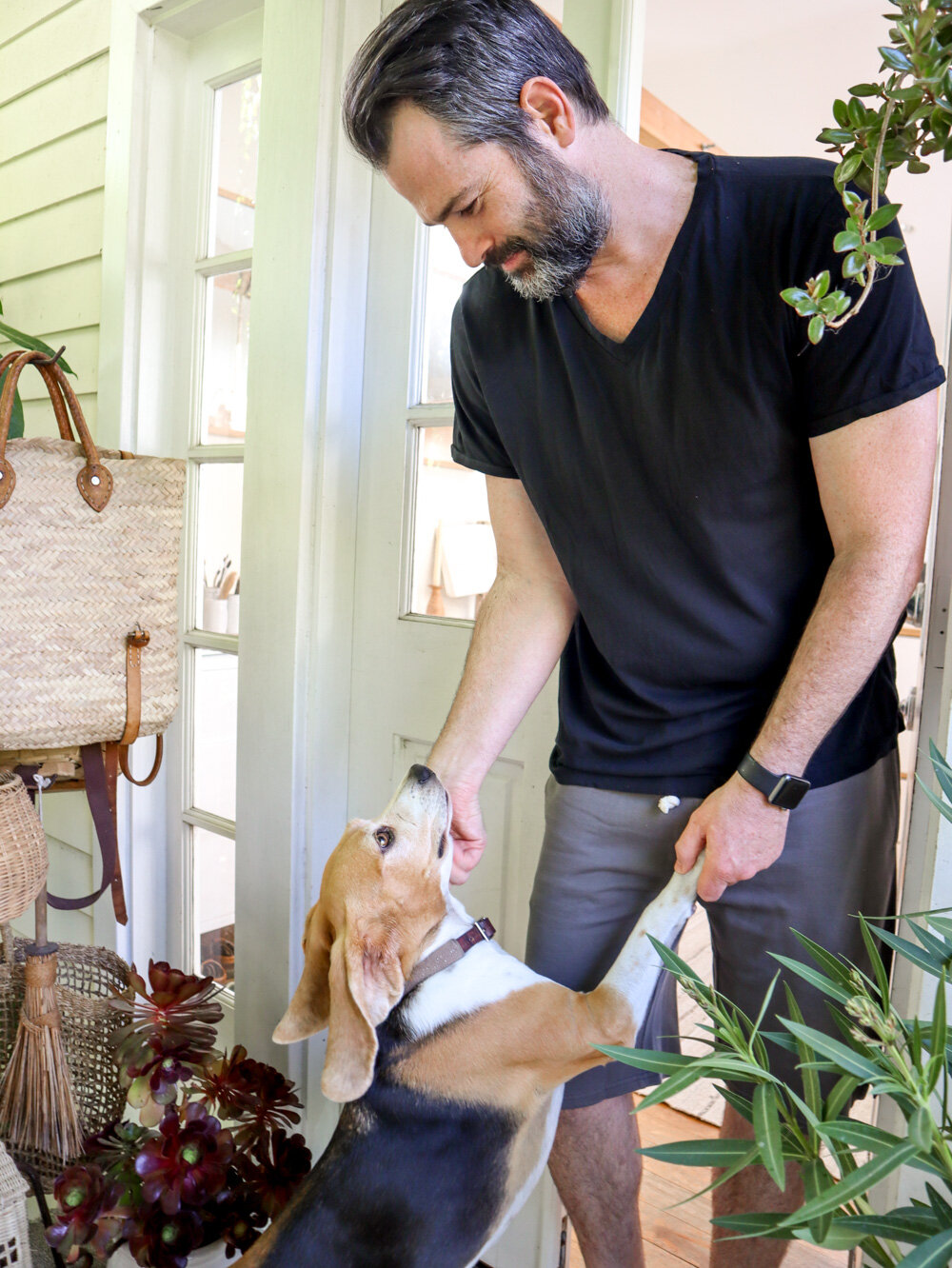 Pact uses no toxic chemicals nor toxic dyes in their clothing, and they practice organic cotton farming, which saves vast amounts of water compared to modern conventional cotton farming.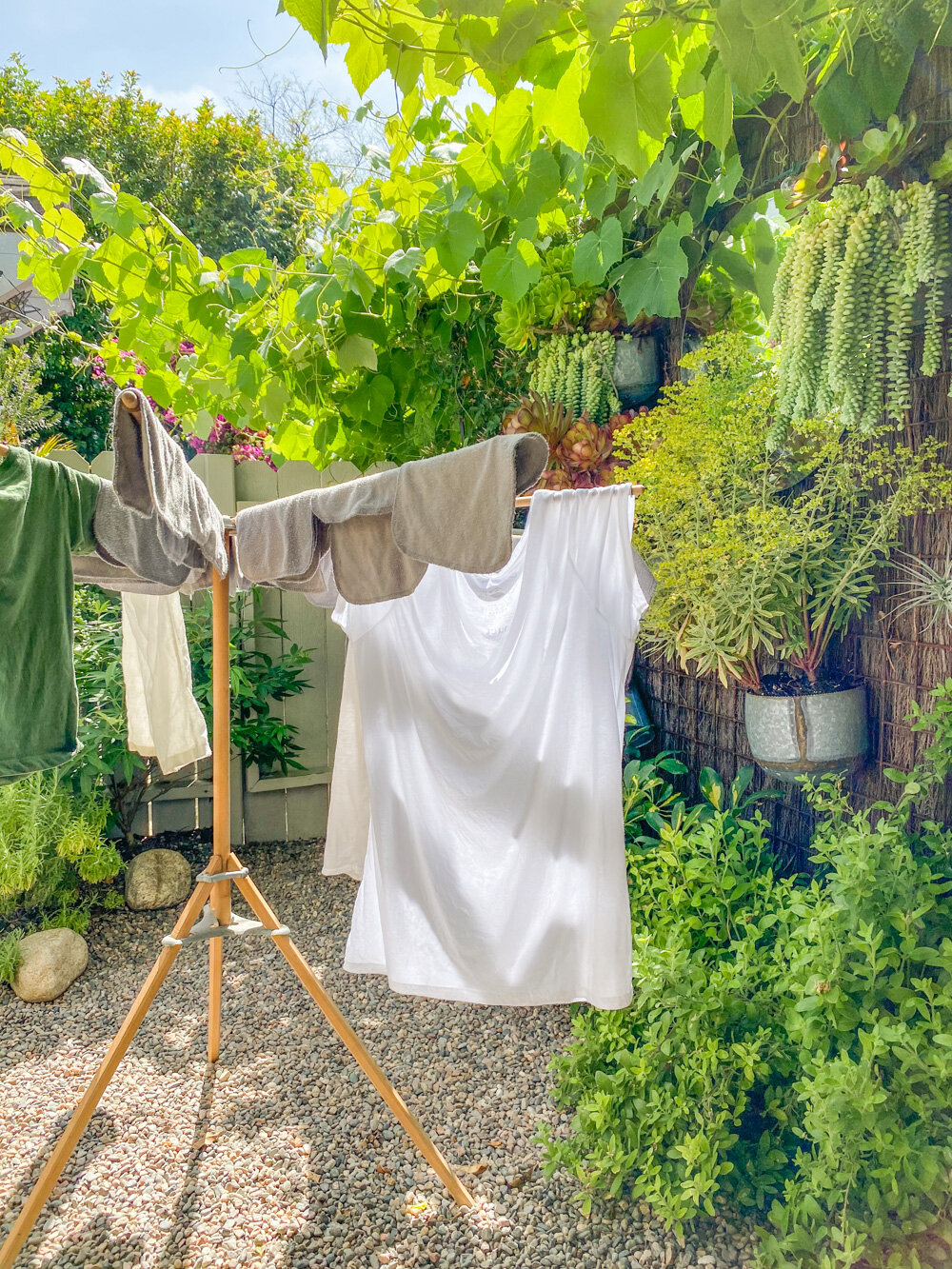 Another reason to transition to a wardrobe comprised of natural, organic fibers it to prevent microplastics from seeping into our waterways with every wash. Synthetic fibers like polyester, nylon and rayon (among others) are plastic that  we're unwittingly draping on our largest organ, and then flushing into our water systems.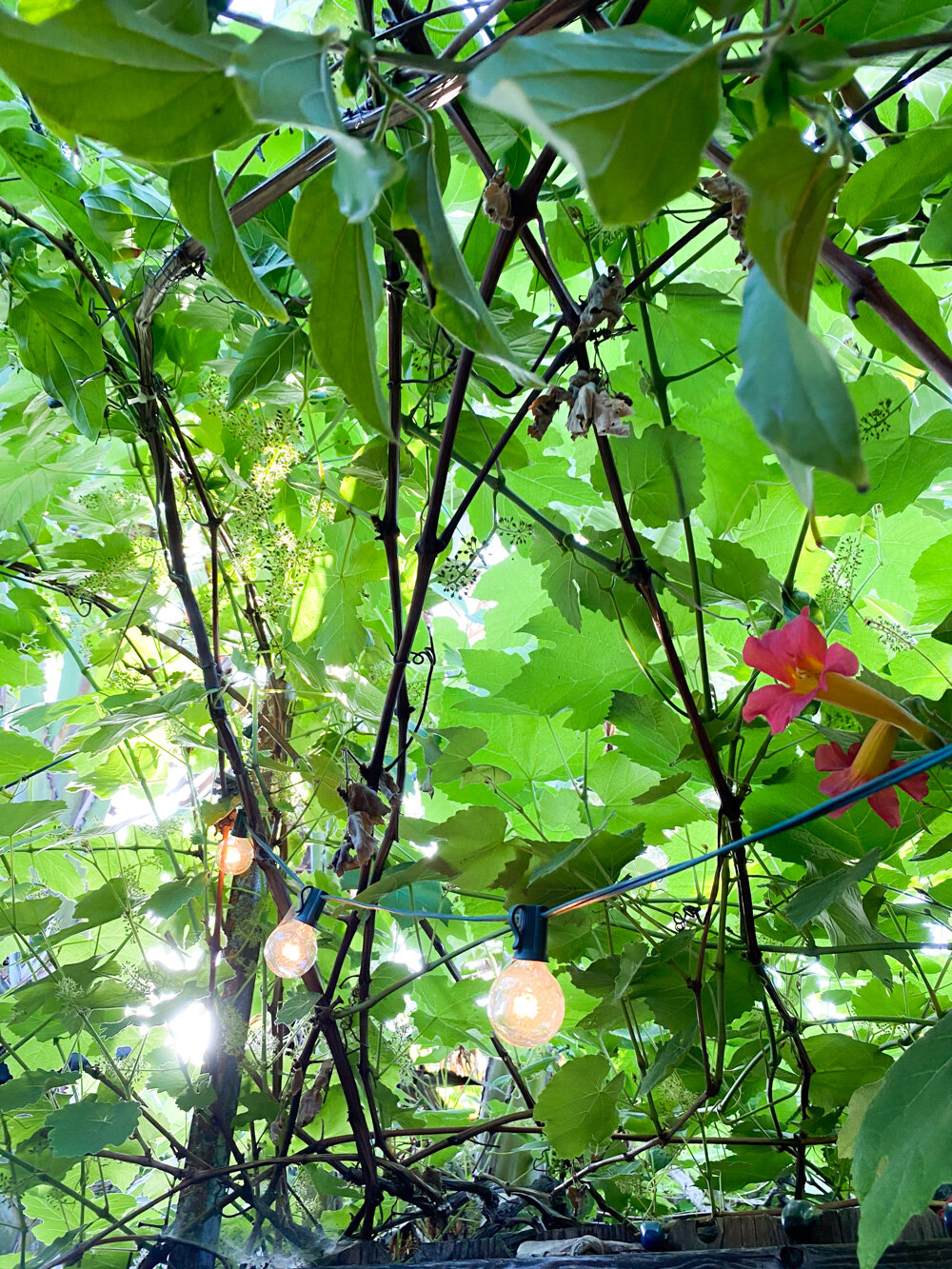 Pact offsets the carbon footprint of their shipments, and uses biodegradable, recyclable and compostable packaging. They also partner with local non-profits to whom they can donate your used clothing if you'd like to ship any garments (Pact or otherwise) to them via a pre-paid shipping label provided by Pact. But before doing this, please keep in mind that the majority of donations (in general) end up in landfills. So I say buy less, buy better, repair more, and wear your comfy sustainably + ethically made clothes until the end… 
…and then turn them into endlessly reusable cloths for polishing up that beautiful small stoop of yours.
This post about creating and enjoying a small, versatile outdoor space, was sponsored by Pact. (Thank you to Pact and the readers of my blog for keeping our small business going, and our home's twinkle lights glowing.) As always, all photos and words are my own, and any imagery featuring my child and/or pups was taken as they interacted in their own natural ways. 
Clothing pictured:
Drying line undergarments: Lace Hipster + Smooth Cup Bralette
Whitney's painting shirt: Featherweight V-Neck Tee
Adam's painting shorts: Essential Sweatshort
Whitney's dresses: Trapeze Tank Dress
Adam's afternoon garments: Garment-Dyed Henley + Woven Roll Up Pant
West's shorts: Softie Shorts 
West's t-shirt: Everybody's Friend Tee
West's pants: Classing Leggings