Easter Bunny Bread is a longstanding tradition in our family and my kids look forward to it even more than their Easter baskets! You can make it with frozen bread dough or with any homemade sandwich or shapeable bread dough.
My sesame semolina bread dough makes a lovely Easter Bunny Bread. Visit our Bread Recipes page for more fantastic homemade breads!

I've been making Easter Bunny Bread since my eldest was a bonnie wee boy in diapers. And seeing as he and two of his little brothers are now legal adults and the other two of his brothers are now full-fledged, card-carrying, certified (and certifiable) teenagers -pardon me while I go hyperventilate for a couple minutes- I think you could call this a truly ingrained holiday tradition.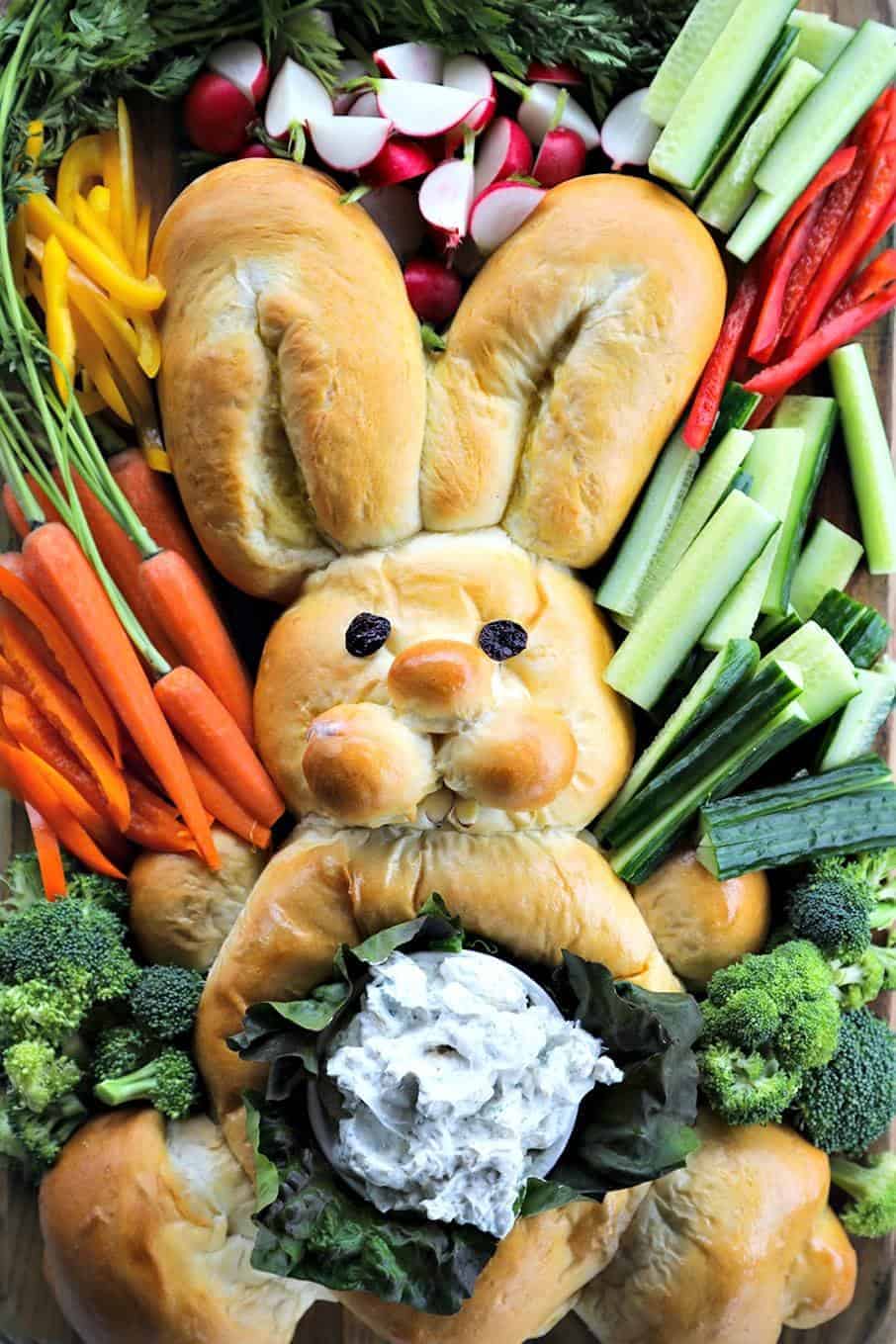 Here's how Easter Sunday works Chez Foodie With Family…
The boys wake up early. The Evil Genius and I lay down the law about only eating two pieces of candy from their basket, look the other way and drink something highly caffeinated while they eat six, make a protein heavy breakfast to offset the sugar, hose them all off (or run them through the shower),
…tell them to get dressed (and pray no one gets to church shoeless like they did that one year…), load up in the van, attend church, return home, take off church clothes, put on our fat pants and lay into the annual bunny bread with wild abandon. Please pardon my run-on sentence.
Which is better than a fragment. Oh dear.
That bunny doesn't stand a chance against this ravening horde. And this is the honest reality of it; My kids look forward to the Bunny Bread more than they do their Easter Baskets.
The whole ride to church, time at church and ride home from church is punctuated with our own call and response, either squawked or whispered, "We ARE having a bunny bread, right, Mom?" "You saw it on the counter, right?
Yes. We're having one." and "How much longer is this service? I'm dying for Bunny Bread" "They haven't even started the service. And you're not dying. Just hang on."
…and "Can we eat it as soon as we get home? Do we really have to change clothes?" "Yes. You have to change clothes."
'Round here, this is a strictly Easter dish, but I can see this going over a treat at a bunny-loving child's birthday party or a get together for friends.You don't have to be a bunny-bread withholder like I am. Feel free to bust out Bugs whenever the muse strikes.
Don't let the idea of shaping bread scare you away. This is quite simple.
While I start with approximately two pounds of homemade bread dough (I recommend this recipe!) you can your favorite standard bread dough or even thawed frozen bread dough. It's just a matter of breaking it down into steps, and I've done that for you. To see just how easy it is, watch the video in this post.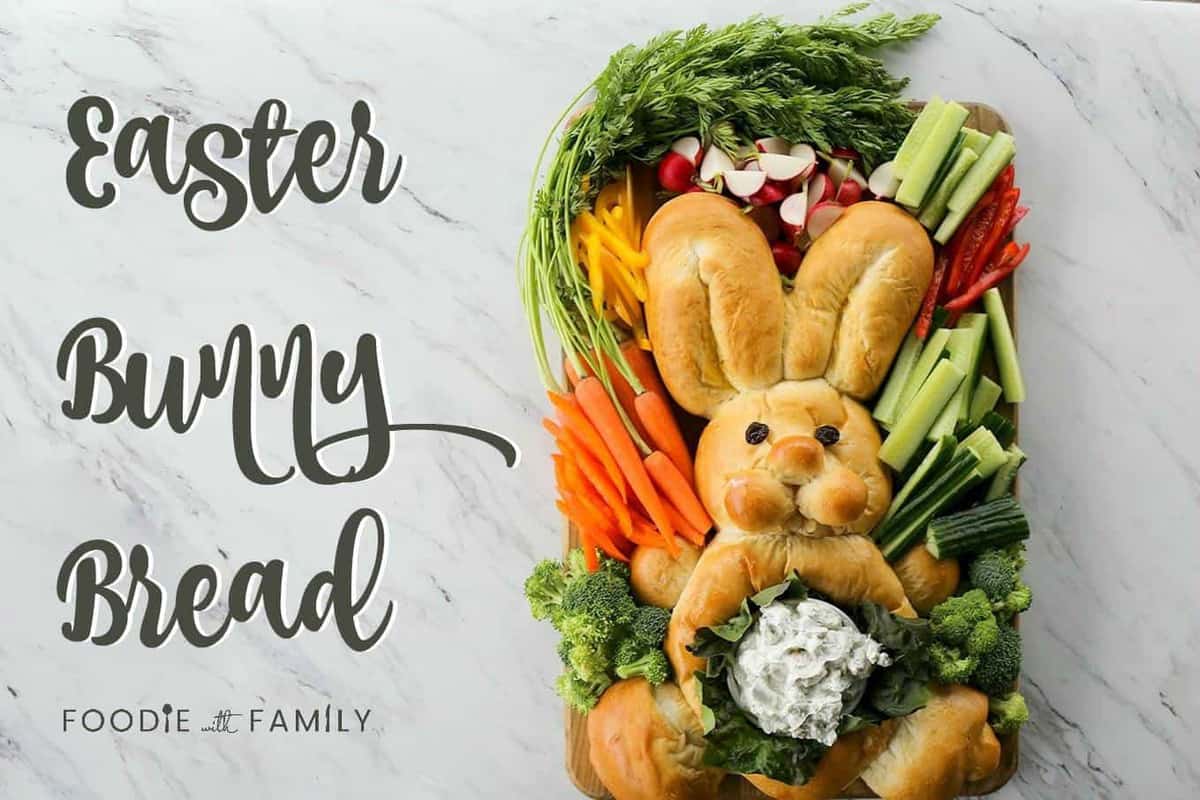 Cook's Notes
You can use homemade bread dough like this, or use purchased frozen bread dough that you've thawed according to package instructions. Either will be delicious. My preference is for this semolina dough.
As for the dip, put whichever one best floats your boat. I love this one the best, but use whichever dip makes your family happy.
When it comes time to assemble the Easter Bunny Bread, use a small ramekin for the dip. Invert it on top of your bunny bread and slice around it. You don't need to slice deeply, just enough to let you know the outline of the bowl.
You can then use your hands to pull the circle out that you sliced and the bread underneath it to make room for the lettuce and bowl. Feel free to eat the bread you pulled out ~or~ cube it and serve it alongside the Easter Bunny Bread.
As far as lettuce goes, I find red or green leaf lettuce or butter lettuce to be the best options for lining the bunny bread's tummy before adding the ramekin. Those three lettuces have a fresh, green, leafy look. A crunchier lettuce -like iceberg and romaine- will not be quite as nicely ruffled and will be prone to breaking.
When it comes to vegetables, add whatever makes you hop with joy. Carrots are a natural choice, but we like to add a large variety; a little something for everyone like cucumbers, broccoli florets, bell peppers, cauliflower, radishes, snow or sugar pea pods, and more.
You can use these to make Easter Bunny Bread more easily…
silicone pastry or basting brush
Connect with Foodie with Family
facebook | pinterest | instagram
Look how easy it is to make Easter Bunny Bread!
Do you love this Bunny Bread? Check out these other wonderful treats for Easter!
Print
Easter Bunny Bread
This golden brown, soft bunny bread filled with dip is irresistible. Be sure to position yourself closest to the ears so you can nab one when you give the go-ahead! (While I lost the copy of Taste of Home where I originally read this recipe, a little trial and error and years of experience yielded a bunny bread perfect for devouring.)
Ingredients
Approximately 2 pounds homemade bread dough [or 2 loaves frozen bread dough

1 pound each, thawed]

1

egg

beaten

2

pieces

of dried fruit

raisins, currants, cherries, blueberries, etc...

2

slivered almonds
For serving:
Your favorite dip

Vegetable sticks or florets

carrots, celery, cucumbers, pea pods, cauliflower, broccoli, etc...
Instructions
Cut your ball of dough into two pieces that are approximately 1 pound each.

Set one piece aside.

Cut about 1/4 off of the remaining hunk of dough.

Roll the piece into a ball and then flatten slightly on a parchment or silpat lined cookie sheet to form the bunny's head.

Roll the other 3/4 of the dough piece into a ball and flatten into a large oval that is about 6-inches across. This will be the bunny's body.

Place the body directly below (and in contact with) the head on the cookie sheet.

Cut the second dough ball into four equally sized pieces and roll into balls.

Roll two of the pieces into long, snaky ropes (about 15 or so inches long) and then fold the ropes in half.

Place on either side of the head as ears and tuck the ends slightly under the head.

Take a third dough ball, split into two equally sized pieces and roll into balls.

Position one ball on either side of the base of the bunny's body like back paws.

Use a bench knife or butter knife to cut two slits at the outside edges of the back paws to form bunny toes. What? They have toes.

Divide the last remaining portion of bread into 3 equally sized pieces.

Roll two of the pieces into balls and place against either side of the upper third of the bunny's body to serve as front paws.

Take the remaining dough and cut off 1/4 of the dough.

Roll the tiny piece into a ball and position on the bunny's head to serve as the nose.

Cut the final piece of dough into two equal pieces.

Roll those pieces into balls and position under the nose for the bunny's cheeks.

Cover loosely with plastic wrap and let rise until puffy and almost doubled in bulk (about an hour in a warm room.)

Preheat oven to 350°F.

Remove plastic wrap, brush lightly with beaten egg and push the two pieces of dried fruit into the bunny's head for it's eyes.

Bake for about 30 minutes, or until the bunny is golden brown and lovely.

Let rest on the pan for 10 minutes before transferring to a cooling rack to cool completely.

Transfer the cooled bunny bread to a serving platter.

Cut a hole equal to the size of the bowl you will use for your dip from the belly of the bunny.

Set the bowl of dip down into the bunny bread.

Arrange vegetable sticks and crudites around the bunny and serve!
Notes
You can, alternatively, line the hole in the bunny's belly with lettuce leaves and put the dip directly into it. We prefer to put the bowl of dip in to better salvage any leftover dip after we devour the bread. This would also be preferable if you think you may have leftover bread.


Originally posted April 22, 2011, Text, photos, and tutorial video updated March 2017, 2018, and 2020.

The post Easter Bunny Bread appeared first on Foodie With Family.