A stylish laundry is possible with a bit of know-how.
The laundry has always been seen as a functional room in the home. But over the last decade, we've seen this room evolve into a space benefiting from well-thought out design and décor.    
Most basic laundries pre-90s and even early 2000s, were located in the garage or in a back room with limited bench space and cabinetry.
For some people, this describes the current state of their laundry. For others who have a newly built or renovated laundry, the space may need some styling to make it feel less 'utility'.
1. Less is more
The laundry is typically a smaller room than the bathroom and it can often be a narrow space. Don't overcrowd it with cabinetry or inject it with too many focal features. Minimal is key. Ensure your laundry has the following staples:
Washing machine
Dryer
Bench
Tub/sink and tap
Window/door for natural light and air flow
Cabinetry for storage
2. Conceal the plumbing
Hoses in a laundry are like cords in an office; they're necessary, but can make the space look busy and messy. A plumber can conceal the water and waste hoses in existing cabinetry. If you have a top loader washing machine, this may not be possible.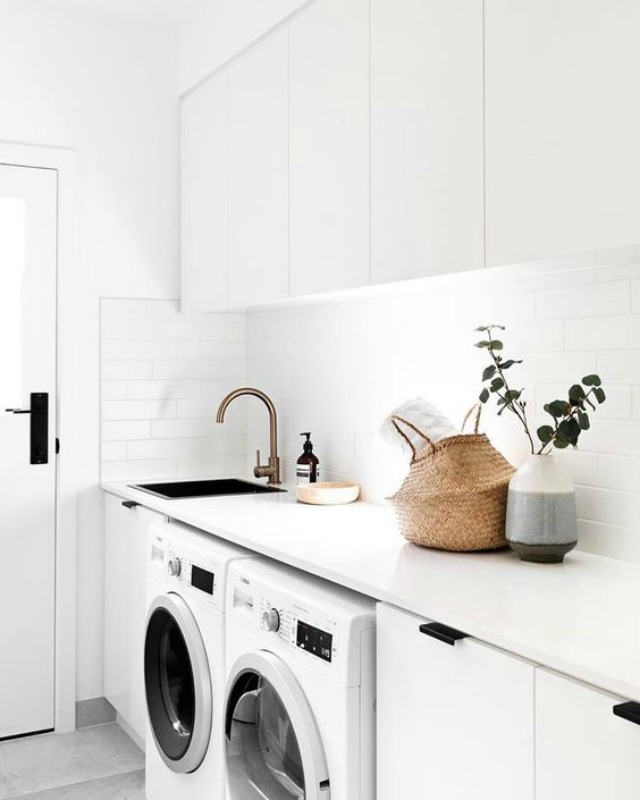 Electrical cords can also be hidden by getting your electrician to supply an electrical outlet behind the appliance or in adjacent cabinetry.
3. Create storage
A laundry without storage won't function very well. Build storage vertically with overhead cabinetry or open shelves. Think horizontally by adding baskets and trolleys for sorting through colours and delicates. 
Install robe hooks and a wall rack to hang clothes that may need extra drying time or some spot attention.
4. Add a bench
A functional laundry needs a bench. If you don't have one, you can create one using this clever hack using a Kmart bamboo tray over the laundry tub.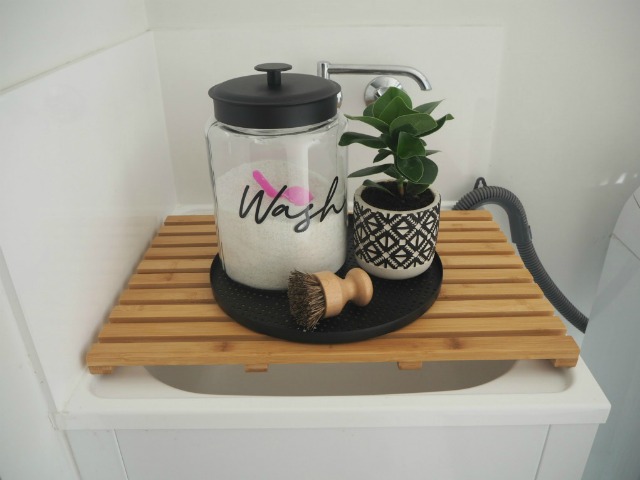 Alternatively, build a bench over the appliances to allow for a place to sort or store baskets of washing.
If you have a bench, keep it as clear as possible. This allows ease of sorting clothes or dumping baskets of washing, ready to be folded away. The bench can also offer a multipurpose space for ironing or sewing.
5. Think about light and air flow
Light and air flow are necessary for all laundry spaces as they can be dark and damp rooms.
Design your laundry so it has a window or door to allow light and fresh air in. A skylight can also save on energy costs while allowing daylight to filter through the room.
6. Style it up
Add a bit of personality to your laundry with some wall art, a few plants and a candle.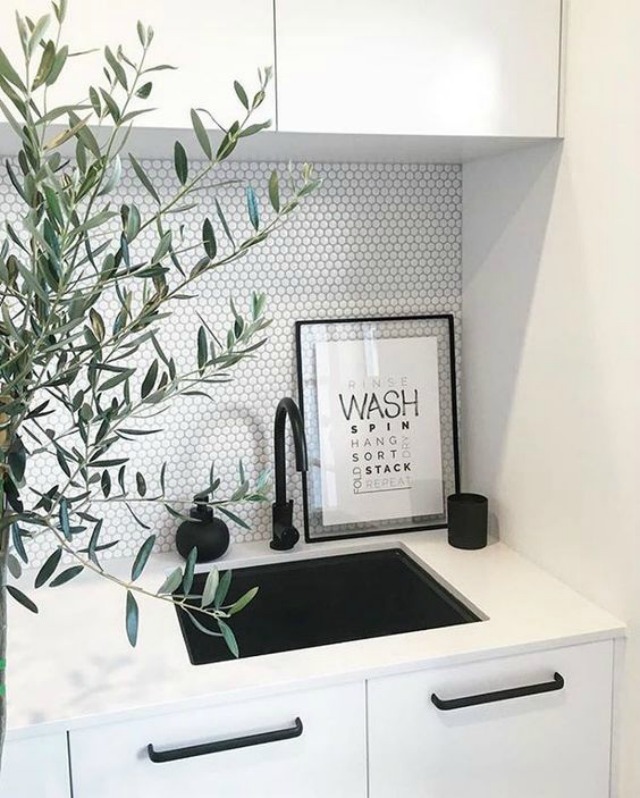 Display powders and detergents in canisters. Sprays can be emptied into brown glass spray bottles with labels. Style the canisters into a vignette so they are easy to reach when washing, but offer a focal point in the laundry.
Don't forget a hand towel ring to hold your hand towel near the laundry tub and a stylish pump soap for washing hands.
For more Laundry Ideas
The post Six tips for a functional and stylish laundry appeared first on The Interiors Addict.