Steve Belkin is the original travel wizard. Getting into the points and miles game in the late 1980s, Steve has done all sorts of wild things for miles — some of which have ended up with unforeseen consequences. Like the time he paid Thai rice farmers to go on mileage runs for him. Turns out, this looks suspicious, so Steve was invited to a meeting with the Drug Enforcement Administration to explain himself. Regardless, his mileage-earning schemes helped him rack up more than 40 million frequent flyer miles over the past three decades.
During quarantine, Steve wrote a book, "Mileage Maniac," about his adventures. He discusses how he got into the points and miles space and some of his best mileage schemes. Plus, the back cover is written by TPG's own Brian Kelly. It's a great read filled with jaw-dropping stories and a unique look into Steve's mind. Just be prepared to laugh a bit. After all, when Steve wasn't out chasing points, he produced a comedy TV show and scouted new comics.
Sign up for the free daily TPG newsletter for more travel tips and deals.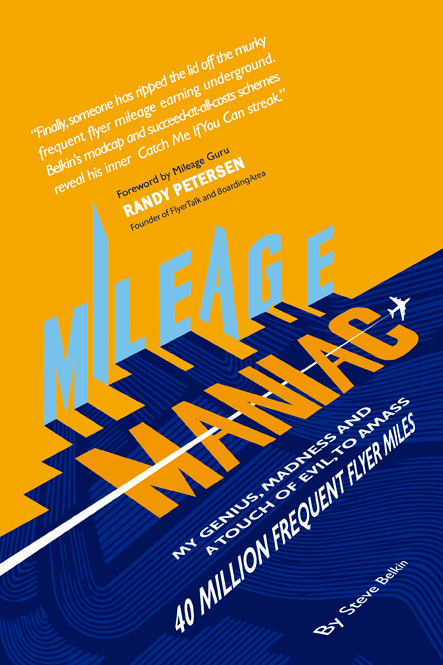 Steve happens to be a friend of mine, so I had the opportunity to chat with him about the book and his life in the points and miles world. Here, I'll give you a look at our conversation wherein he answers some of my burning questions about his life and how he's earned and burned miles over the years. And before you ask: Yes, it includes some juicy details on his work with the Thai farmers.
Without further ado, let's chat with Steve.
An interview with Steve Belkin, the Mileage Maniac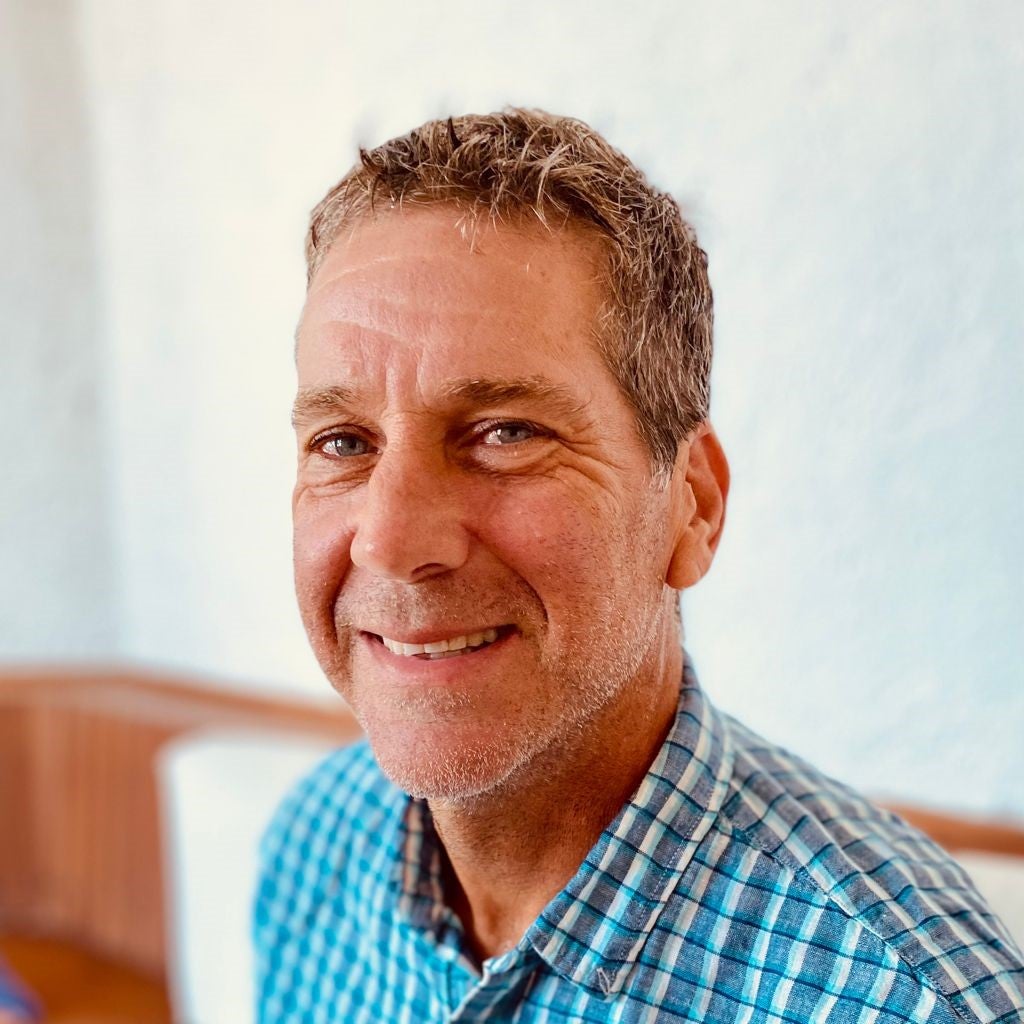 What got you excited about the points and miles world?
I like to be ahead of the curve or even totally off the curve. So, when I stumbled upon the mileage game in 1988 and met with blank stares about it wherever I went, I knew I was onto something. I just didn't know exactly what or to what extent back then.
I know you're into comedy too — did that spark your interest in travel, or vice versa?
Comedy kind of forced my hand to travel. In the early 1990s, I was based in Cleveland, not exactly the comedy capital of the universe. When I decided to create, develop and self-produce my own comedy game show, that was pretty much a precursor to "Whose Line Is It Anyway?," I had no choice but zipping between New York, Chicago and Los Angeles for talent and barnstorming the top 50 TV media markets to recruit stations.
What's the craziest thing you've done for miles?
Too many to count. I probably should write a book chronicling them, huh?
While I'm known for scaling a project in Northern Thailand, hiring 20 disabled masseuses and rice farmers to fly a 30-minute $8 route to earn a few million Aeroplan miles, it wasn't the craziest thing I've done for miles.
The most audacious project was raising $750,000 from investors to create a mileage pool of 40 million miles by having 80 semi-employed improv actors fly back and forth between L.A. and Vegas in first class to earn a 25,000-point promotion bonus per trip. United caught wind 10 million miles into the project before they forced it to be scuttled, even though I did absolutely nothing against their terms and conditions. Welcome to the airlines' kangaroo courts!
What's your favorite mileage-earning scheme to date?
When Sabena, the Belgium-based national carrier, went bust, neighboring KLM offered Sabena members to match their mileage balances and status. The terms and conditions strangely didn't restrict the offer to its intended Sabena market. Anyone from any program could seemingly be qualified to register. I figured KLM would catch the obvious oversight and fix it. But they never did, so on the last day of the offer, I submitted my 2.5-million-mile Premier Executive Gold status with United and after a few harrowing weeks of silence from KLM, I was credited with 2.5 million miles and Platinum (no capacity control!) status … all for the effort of 10 seconds to fax my account info to KLM.
Tell us about the Thai rice farmer scheme and how that came about.
First and most importantly, authorship of the "Baht Run" belongs to a far more creative and cleverer member of FlyerTalk than me. Before viral social media, only a small subset of folks paid attention to, let alone understood the machinations of, mileage-earning schemes on Flyertalk. So, members were extraordinarily generous with sharing their findings.
The Baht Run was likely shared by this member, Ozstamps, because he could brag that he did it and the logistics were so daunting, that few if anyone would have the time and/or money. He was right, it required flying to Northern Thailand and then flying 100 segments on 30-minute puddle-jump flights four times a day for about a month. In addition, food and lodging plus the miles or cash required to get to Thailand from wherever you were from.
Ozstamps introduced the United angle, which was flying 100 segments to earn six SUUs. However, I found the Aeroplan angle which required flying 200 segments, double the segments, but the payoff was way more than double — earning the equivalent of five international business-class awards anywhere in the world Air Canada flew, with no capacity controls as a top-tier Super Elite member.
How did the Thai rice farmers react to your proposal?
Everyone wanted their money upfront, which I could sympathize with because what I was offering seemed too good to be true. Earning five times Thai minimum wage ($15 a day) to fly eight 30-minute flights a day. I was afraid to pay in advance because if anyone flew even one segment less than 200, the whole mileage-earning edifice would crumble. There were no escrow accounts or any other trusted third-party intermediaries. We finally agreed to a 33% upfront, 33% midway and 33% end of project payment schedule. Thankfully, all 20 flyers crossed the finish line.
How did the rice farmer scheme come to an end?
Once the miles of all 20 flyers posted with Aeroplan without incident, about a month later, the management finally figured out that they had a massive influx of their coveted Super Elite members, all with 13-syllable Thai names. It was all done by the book, but Aeroplan just didn't like it and they conducted their own kangaroo court that only relented under the threat of my exposing their "guilty until proven innocent" tactics to the media and Canadian regulatory authorities. It would be a common situation I had with programs that were flummoxed that someone earned millions of miles for something that they intended just a few thousand.
What was your life like during the DEA investigation?
In reality, the scary part was the anticipation of having to meet with them and not really knowing why. The actual meeting was less than 30 minutes and the investigation part was less than 10 minutes. It makes for good storytelling, doesn't it?
Did you ever hear from those DEA agents again? Are they avid frequent travelers now?
No, and no idea.
What's your favorite loyalty program and why?
Back in the day, it would have been a toss-up between Air France-KLM Flying Blue and Air Canada Aeroplan, because both offered something no other program in the world offered: no-capacity-control low-level awards for their top-tier elites. Neither of those superb benefits lasted once the masses discovered them, but it was astounding to travel during crazy peak holiday seasons and booking international business-class awards so effortlessly.
Do you have an airline of choice these days?
Loyalty should be a two-way street, but today I view loyalty programs as "treachery" programs because they simply can't be trusted. What other industry loyalty scheme coaxes its members to earn points with zero certainty or clarity of their value on the redemption side? That's what the elimination of official award charts and dynamic pricing hath wrought. It was bad enough having the airlines change the goal posts when they devalued programs. You could be angry that a round-trip international business-class award increased from 90,000 to 140,000 (that happened in the late 2000s) but you could at least have an earning strategy for 140,000. With dynamic pricing, you can't reasonably plan to save up for an award that could cost 140,000 or 540,000 or any random number in between.
So, short answer, no favorite program. Whatever program has the best award price for a given trip, is where I book. I'm a radical free agent.
How has your points strategy changed over the last three decades?
The programs morphed from rewarding frequent flyers to frequent spenders. It made perfect sense to reward based on profitability not volume, but it took the airlines over 20 years to figure that out. In the meantime, folks like me were spending $1,000 to strategically fly low-cost, high-mileage routes to earn 10,000 miles while the valuable customers would be spending like $10,000 to earn the same 10,000 miles. Who would you rather have as a customer? Once spending replaced flying as the earning driver, the key was to find ridiculously inexpensive stuff to buy that had equally ridiculous bonus promotion offers.
In the 2000s, it wasn't clear that the airline program's financial, legal, marketing and mileage mall departments knew what the other was doing. Hence opportunities presented themselves to members like me, who could coordinate all the disparate info the airline programs seemed to be randomly spewing out.
What are you doing nowadays to earn points and miles?
Nothing. I'm 100% in burning mode that should last quite a while, but with the airline programs, you never know. What I am doing, is losing the ego and bragging rights that I used to be hostage to by other bloggers. I don't need to fly Emirates or Singapore. I can slum it in business instead of first-class. If I can find a cheap business-class airfare with a non-blogger approved airline like Philippines Air or Air Serbia, instead of jumping through hoops trying to use my mileage, then so be it.
What was the first trip you booked with points and miles?
I think it was Detroit to Austin, Texas. There was a girl who I kind of paired up with during a summer in Spain in ninth grade. Then a few years later, she reached out to me. I was at the University of Michigan, and she was at University of Texas, so whereas most of my friends would road-trip to Chicago as their big trip, I did a "fly" trip to Austin.
What's your favorite trip you've ever booked with points?
Boy, that's like asking me who is my favorite child.
Favorite trip was a one-month exploration of remote Indonesia with my two sons when they were 11 and 13.  One part of Western Papua (now called Raja Ampat) was so remote they tracked the number of international visitors on a white board at the arrivals area. My kids and I were the 9th, 10th and 11th Americans to visit that year! We visited a tribe that had only been discovered in the jungle only 50 years before. We learned about their fascinating customs like poison blow-dart making, cooking food in underground pits and constructing houses from animal dung. In rural Bali, we participated in a funeral ceremony where cremation is a high-energy, joyful cacophony of music, singing, incense and beautiful clothes.
Favorite flight — what should have been my favorite flight, was not. I was on the very last Manchester-Bombay fifth freedom flight on Singapore in first class. I was the only one in first class, with two very attentive flight attendants. They filled my water every time it went 1/3 empty and cleared each meal course seven seconds after I was done. My wine refill seemed to be after every fourth sip! They even cleaned the bathroom 25 seconds after I exited. Anyhow, all the hyper-attention actually felt suffocating, not regal.
So, the actual flight winner would be the modest 55-minute Cleveland-Chicago United flight in first. Back in the 1990s, before first class became a haven for the free upgrades that the airline started printing with impunity, the service was impeccable. Delicious hot breakfast, fresh orange juice, a happy and motivated crew and an uncrowded lounge. I flew that flight dozens of times per year before I was exposed to international business class, and I thought things could never get any better than that!
You're mostly location-independent these days — where did you spend the bulk of the pandemic?
I was supposed to start a dive instructor position in a rural hamlet on the coast of Mozambique in early March 2020.
By mid-March COVID-19 was raging and countries were panicking and slamming borders shut with almost no notice. My wife wanted to high-tail it back to Cleveland where cases were sky-high, but there was a health infrastructure to treat people. The little town in Mozambique, called Tofo, had zero cases and barely 400 people living there, so social distancing was easy. However, if anyone would get sick, it would be a nine-hour drive to the capital, Maputo, and there was no guarantee of hospital access. My wife decided to depart, and I elected to stay. We figured it might be a few weeks apart, but the repatriation flights kept getting scheduled and canceled, so it wasn't until the end of June that we were finally reunited.
I lived in a tricked-out beach shack on a bluff overlooking the expansive ocean for $300 month. I enjoyed fresh marinated tuna cooked on a hot stone for $7 and a 3-mile crescent of beach that was totally barren. It wasn't a bad way to ride out my quarantine. Since there was no diving allowed, I got stir-crazy enough and decide to write "Mileage Maniac."
Related: TPG beginners guide: Everything you need to know about points, miles, airlines and credit cards
Bottom line
And there you have it: a look at the life of Steve Belkin, one of the original points and miles experts. Read his new book, "Mileage Maniac," for a more in-depth look at his endless points and miles schemes, travel stories and run-ins with loyalty programs and the authorities. You'll laugh your way through the book and get a unique insight into the mind of one of the travel world's most prolific points and miles experts.
Featured photo by Nuamfolio/Shutterstock.com.