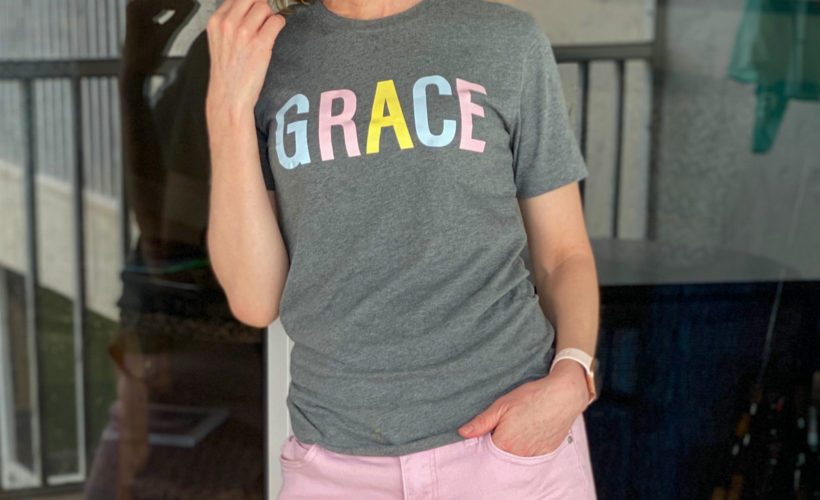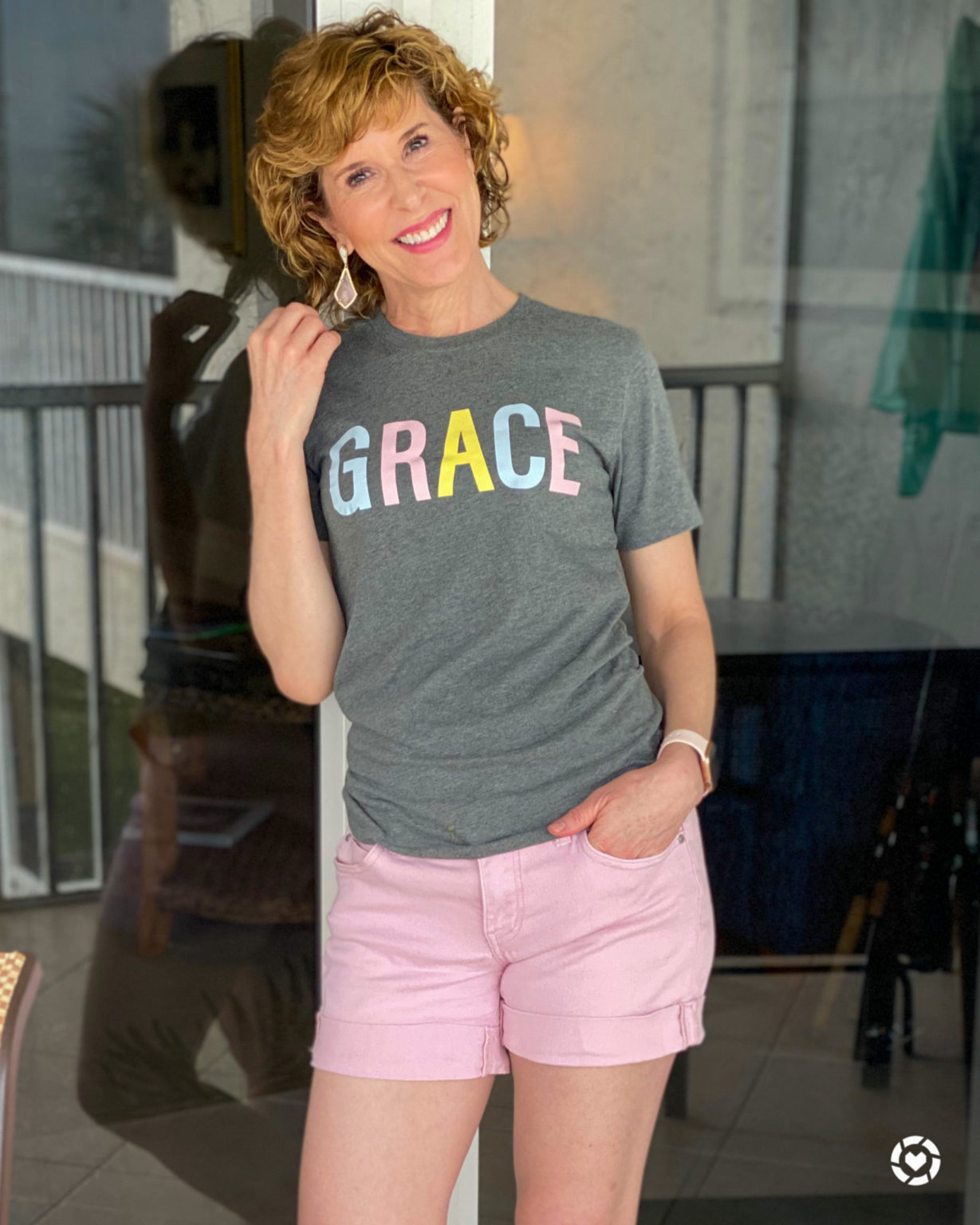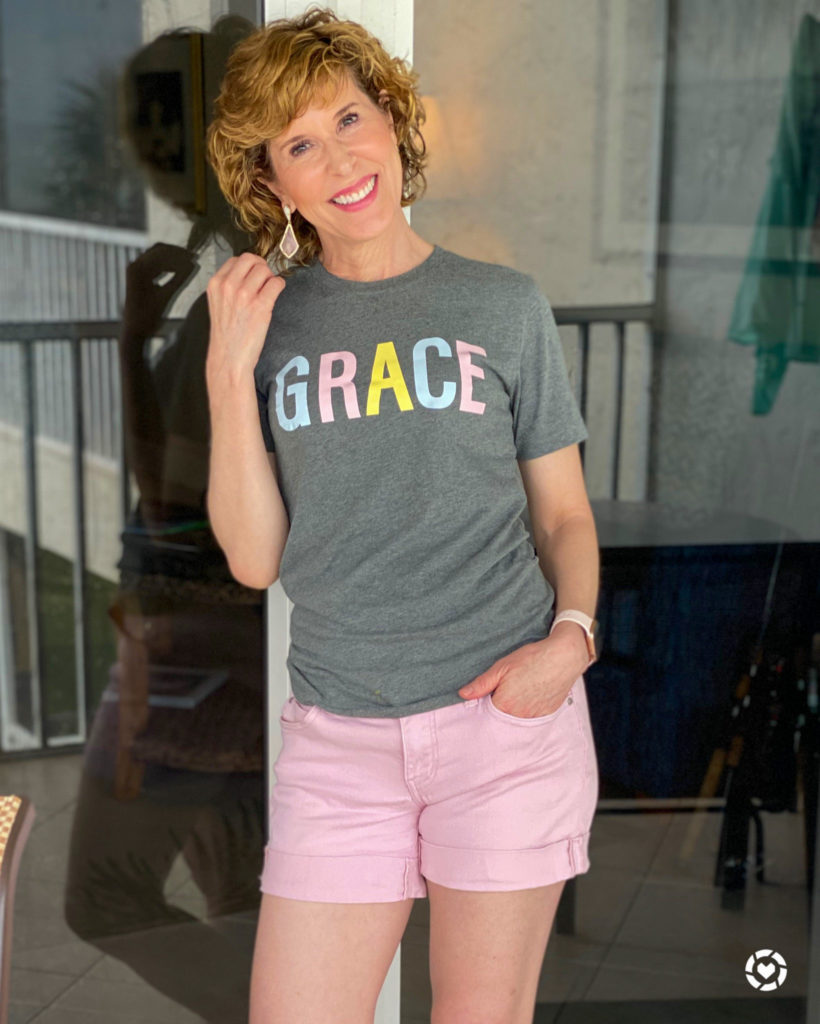 This week has been a painful one for our country. My prayer throughout has been that we would all be full of grace. Grace that is wrapped in love, and bathed in humility.
What a Week
We're really enjoying our time at the beach, and the wind, surf, and sand provided the perfect backdrop for a time of introspection and prayer. I prayed Psalm 139:23-24.
"Search me, O God, and know my heart! Try me and know my thoughts! And see if there be any grievous way in me, and lead me in the way everlasting."
I hope it was a sweet time of reflection for you as well! May we go forth with new understanding and grace toward one another.
This Week's Big Project
This week I also finished up a big project that my assistant Natalie and I have been working on for about a month now! If you haven't read our post, What Your 20-Something Wants to Tell You (And Needs to Hear From You), I so hope you'll take the time to read it this weekend (and share it with others if you find it helpful). As one commenter put it,
"This is so great and much of it rings true for my teens, too. I am also still struggling with this as a 48 year old from my own mother and it makes our relationship difficult. Everyone should read this!"
Y'all, comments like that are the reason I do what I do! I'm so grateful to Natalie, for being as passionate about delivering this post as I was. She is a treasure!
Our Travel Experience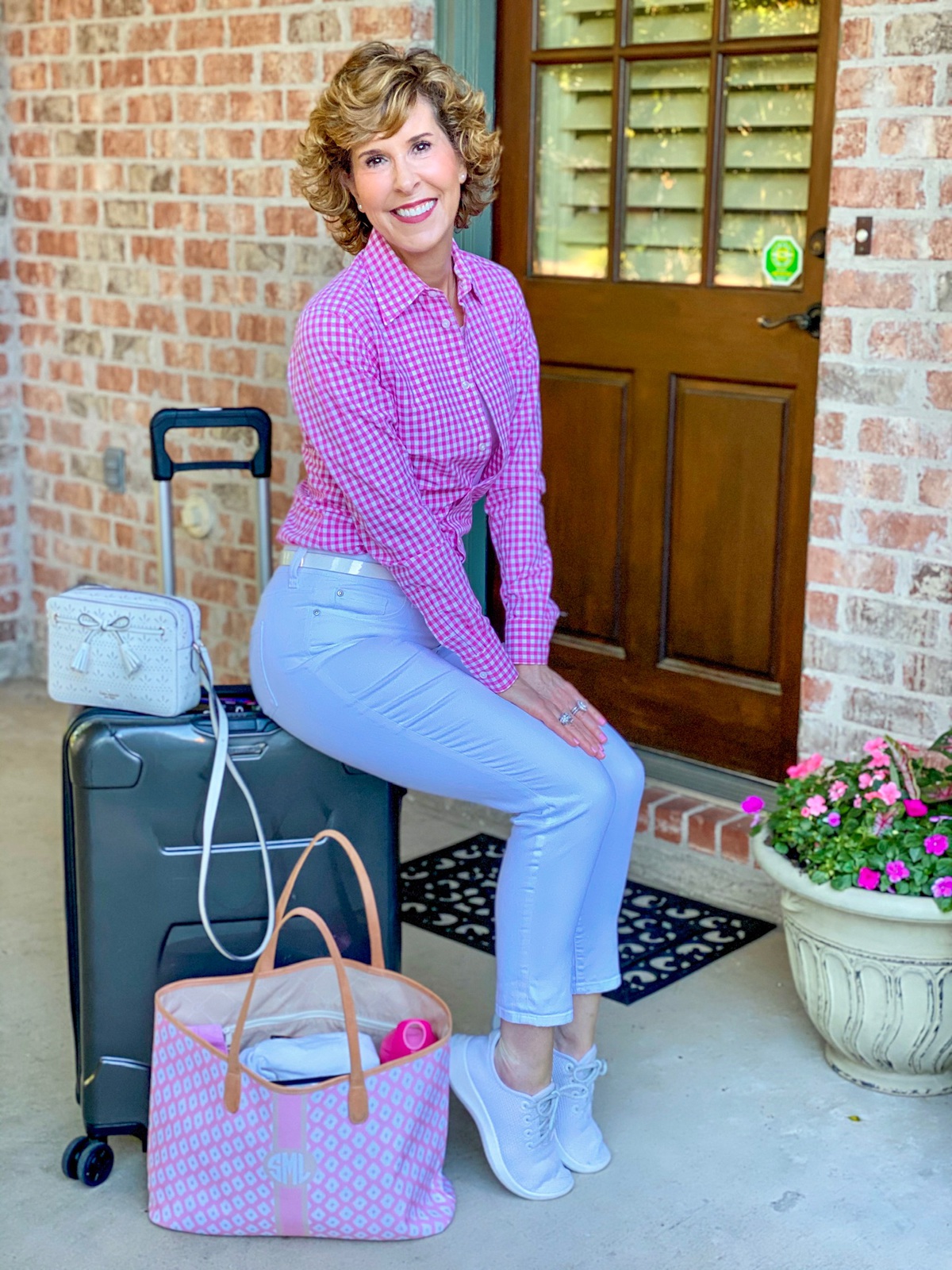 Pink & White Gingham Shirt (30% off with code WAVE) | White Jeans | White Tennies | Pearl Stud Earrings | White Perforated Crossbody with Tassel Bow (57% off+an additional 40% off this weekend only!) |Personalized Tote | Luggage

I got so many DMs asking about our travel experience on Friday! I recorded an Instastory on Monday sharing the details of what our travel experience was like, but in the whirlwind of this week, I forgot to save it to my highlights.

I'm so sorry! Here's the short version

:
We got the best parking spot we've ever gotten at the airport, because the parking garage was nearly empty!
We wore our face masks from the time we left our car until after we'd disinfected the rent car in Ft. Myers.
The check-in and security process were socially distanced, and we felt completely safe.
More seating was added at the gate, so there was more than adequate room for distancing. Most travelers were a part of families traveling together (so we figured they'd all been in quarantine together). That was an encouraging thought!
American Airlines reduced the number of flights from Dallas to Ft. Myers from three per day to one, so our flight was about 85% full. (I get that they can't stay in business if they run flights that are mostly empty in order to provide adequate social distancing.) That said, the gate attendants spent about 30 minutes re-ticketing passengers to spread them throughout the plane as much as possible.
Upon boarding, each passenger was handed a small handled bag containing a water bottle, a nut-based snack, and a packet of hand sanitizer.
The plane seemed clean, but we still swabbed our row down with disinfectant wipes and were still glad to have our FlyCaddies! (See below – they fit over the tray table of the seat in front of you and provide storage for your stuff.)

The bottom line: the plane was fuller than we would have preferred, but we felt relatively safe. Bob, the CPA, kept reminding me that there was a below 1% changes we would catch THE COVID and the risks of flying itself were statistically higher than the risks of dying from THE COVID. (Isn't he a barrel of laughs?

)
A Few of My Beachy Looks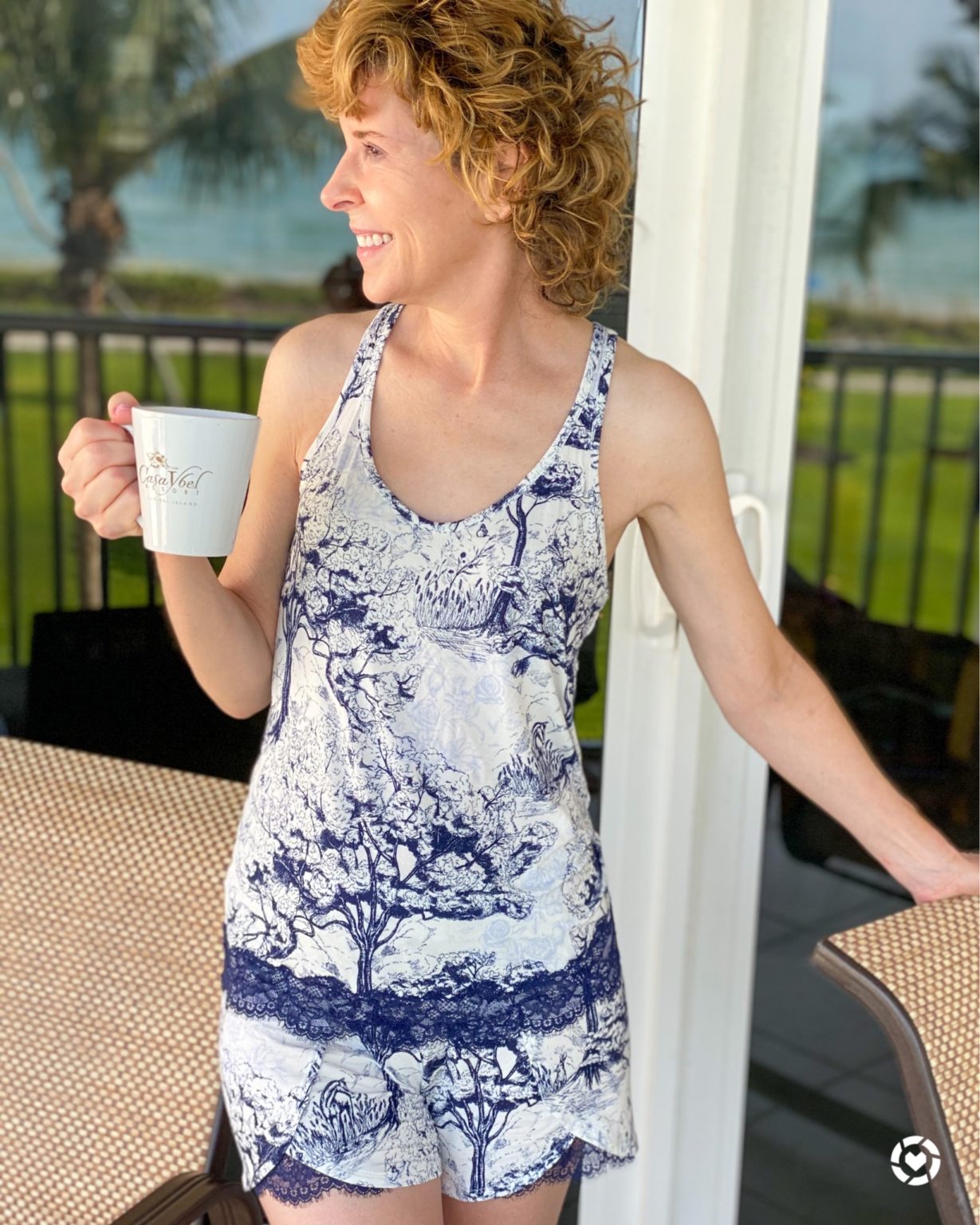 Cool Nights® Lace Tank | Cool Nights® Tulip Pajama Shorts With Lace
These beautiful pieces were gifted to me by my friends at Soma. They're part of Soma Intimates' HUGE Semi-Annual Sale going on right now! Here's how incredible this sale is: the tank top I'm wearing (BTW, you must click through and take a look at the gorgeous back!) was originally $38. They were reduced to $18.99, but now you can take another 25% off, making them only $14.24! The shorts with lace insets were originally $36. They're marked down to $24.99, but now you can take another 25% off that, making them $18.74! Click HERE to check out all of the goodness in the giant sale!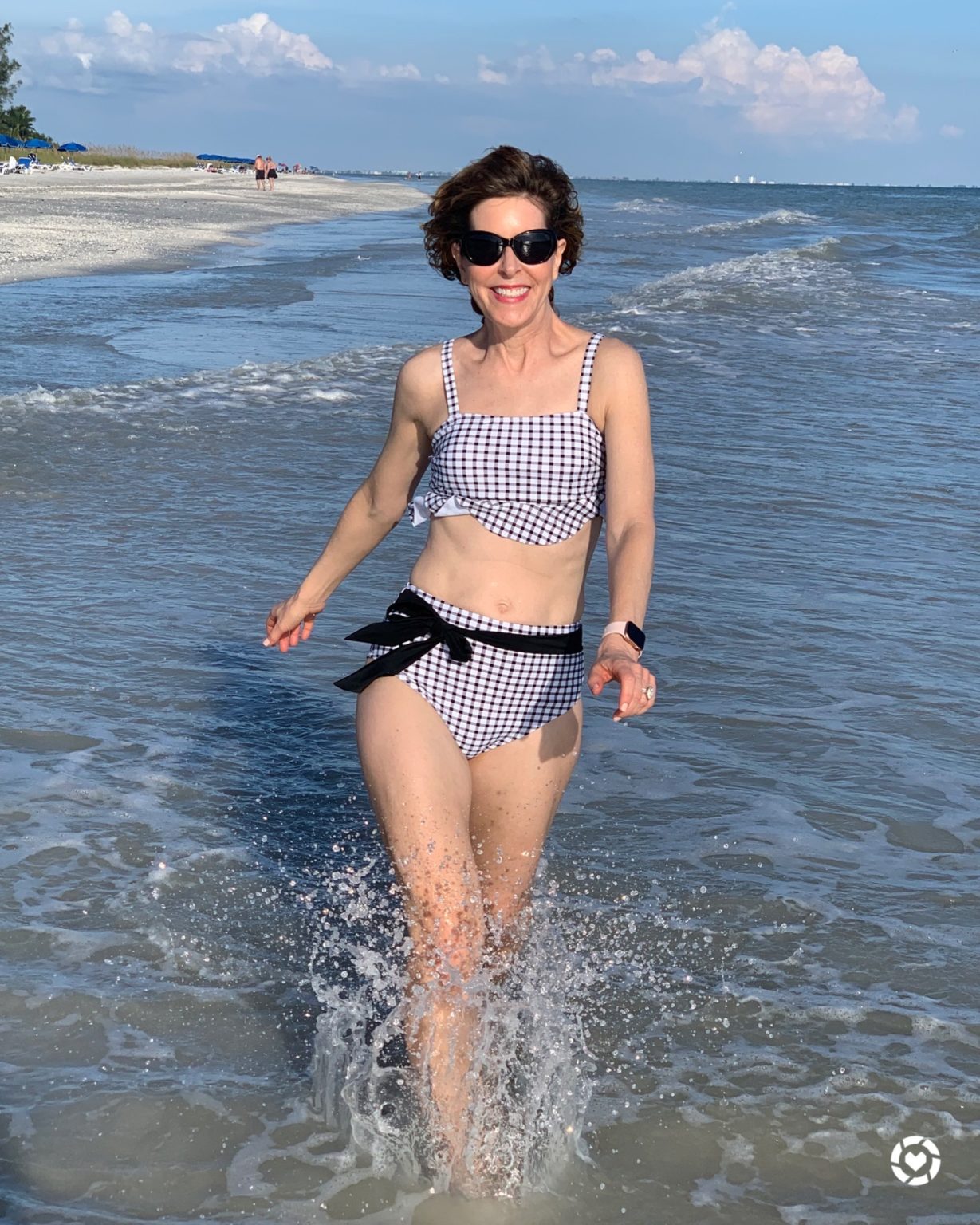 Black & White Gingham Tie-Waist Bikini Set
I linked to this cute high-waisted set in my recent Best Bathing Suits for Beach Babes Over Fifty post! Unfortunately, it's sold out now, but I really like all of the high-waisted bikinis and one-pieces from this particular Amazon brand. Click HERE to check out their other suits.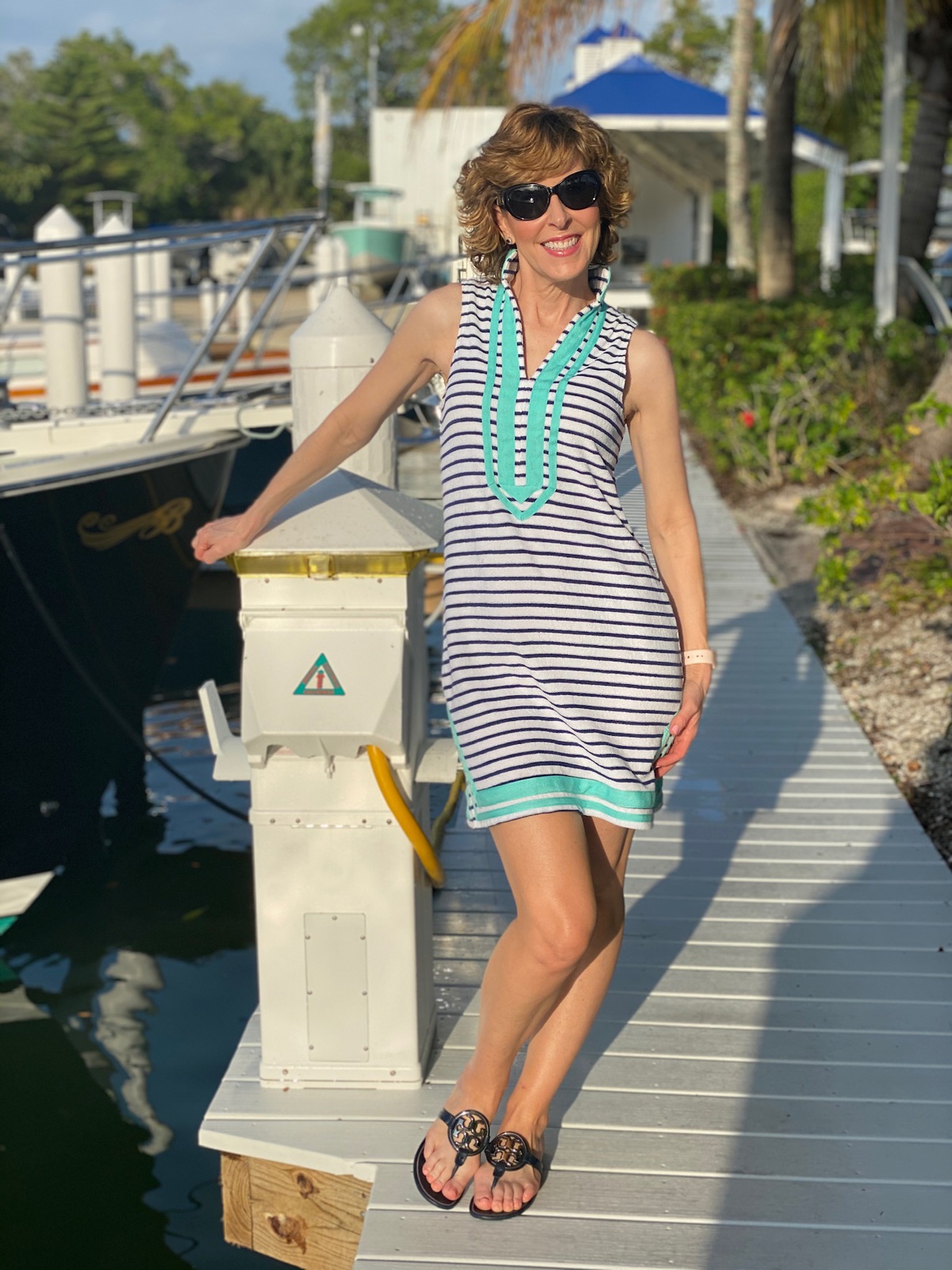 Navy Stripe Terry Tunic | Navy Tory Burch Miller Sandals
It's no secret that I love Cabana Life's bright and happy UPF 50+ designs! This terry tunic was a gift from them. It's so soft, and could easily be worn as a coverup, or a dress, as I wore it. This brand always has lots on sale, which I think is awesome

. Check out their current sale HERE. I've pulled some of my favorite Cabana Life looks for you below!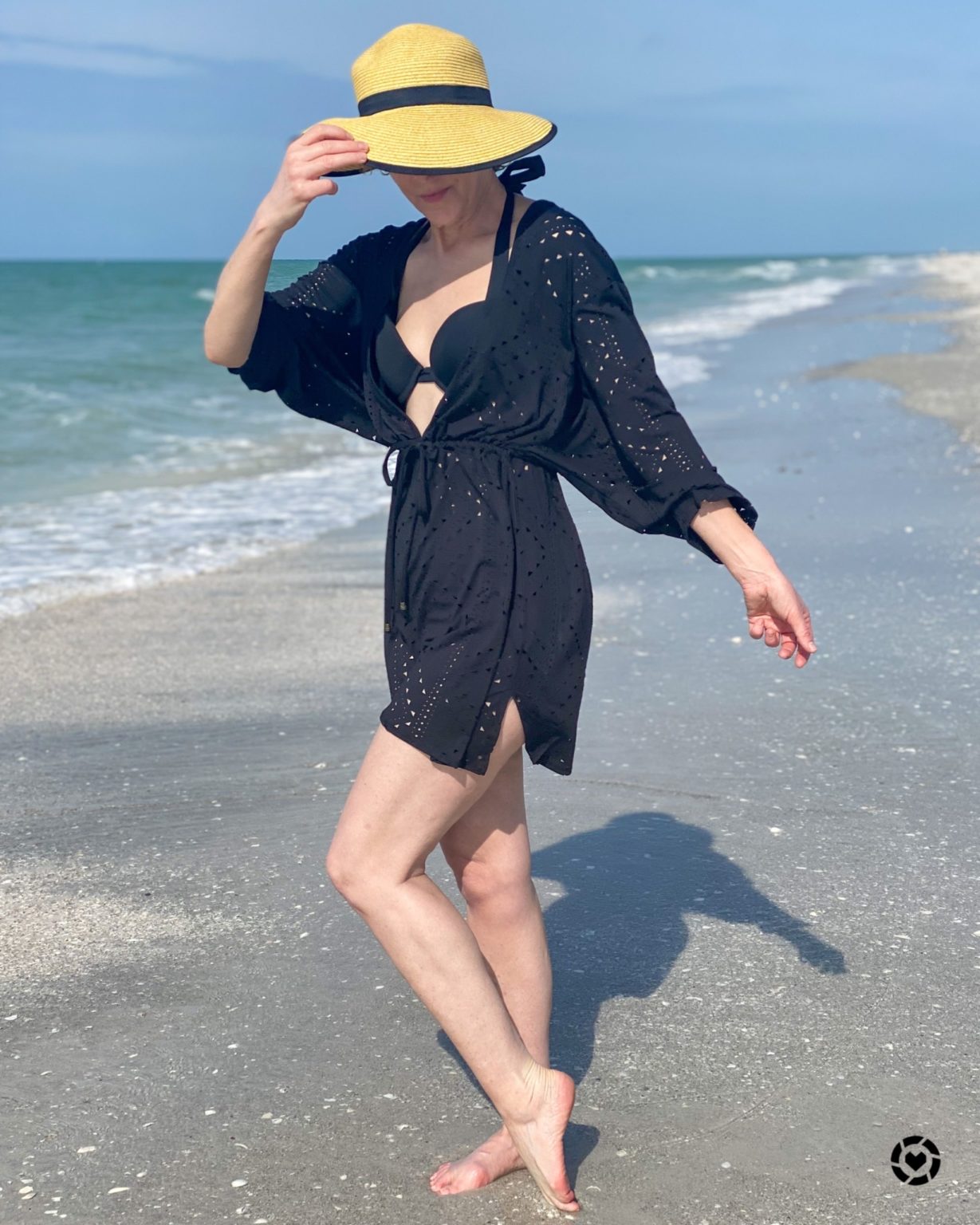 Laser Cut Diamond Coverup | SPANX Convertible Swim Bra | SPANX Adjustable High-Rise Swim Brief

This coverup is also a part of the big Soma Intimates' Semi-Annual Sale. Did you know that Soma not only carries bras, underwear, loungewear, and their much-beloved Cool Nights® pajama lines, but now they also carry cute clothes too? I may be late to the game on this one, but it made me pretty excited!
Underneath the coverup, I'm wearing a convertible bikini top and an adjustable high-rise brief from SPANX. Not the cheapest place to buy swimwear in the world, but the amazing fit and versatility of each piece made it worth it for me! This brief features drawstring sides that let you adjust the side ruching. (So things don't get too cheeky, if you know what I mean

!) The convertible bra swim top is based on the design of their best-selling Bra-llelujah!® bra, for a great fit.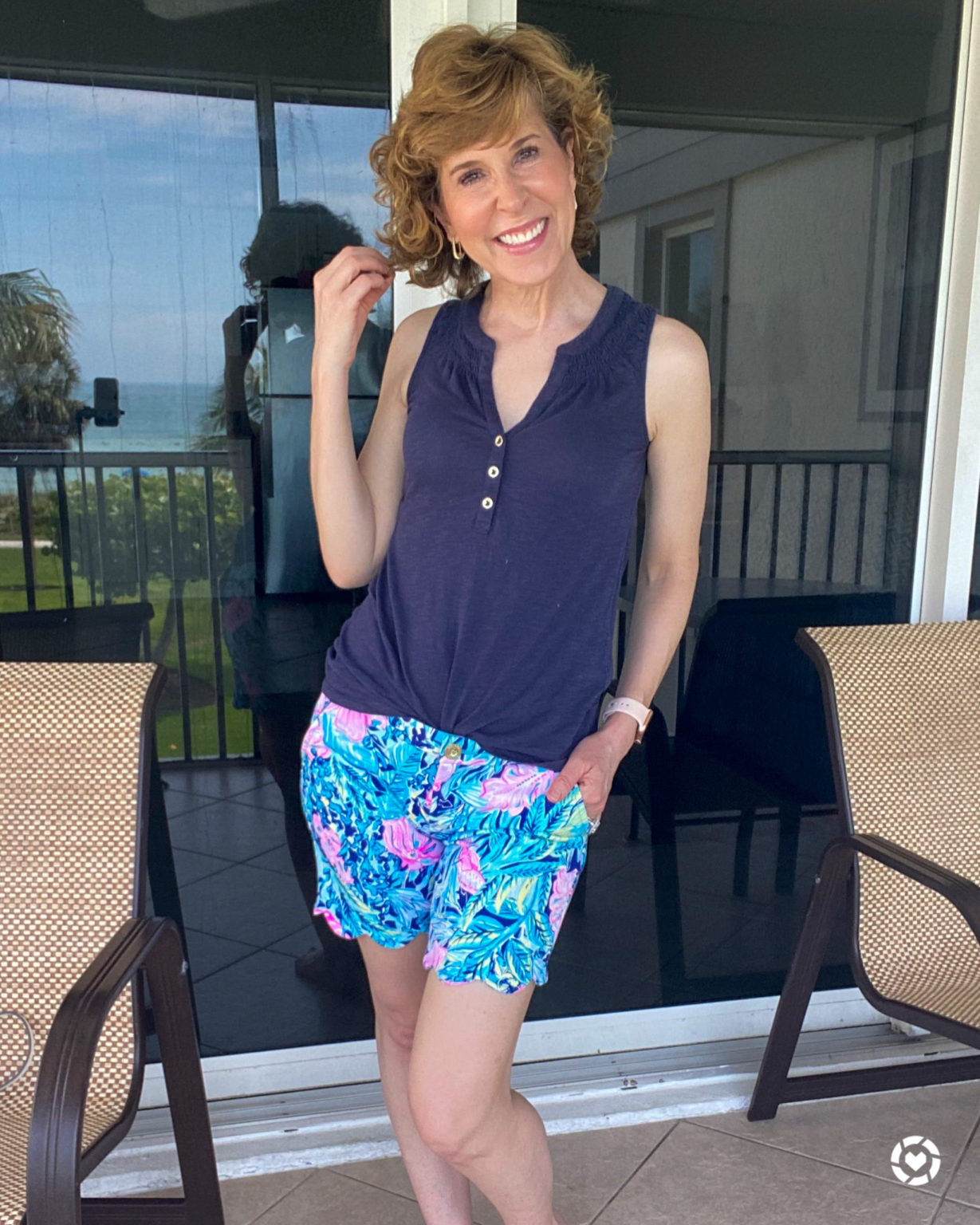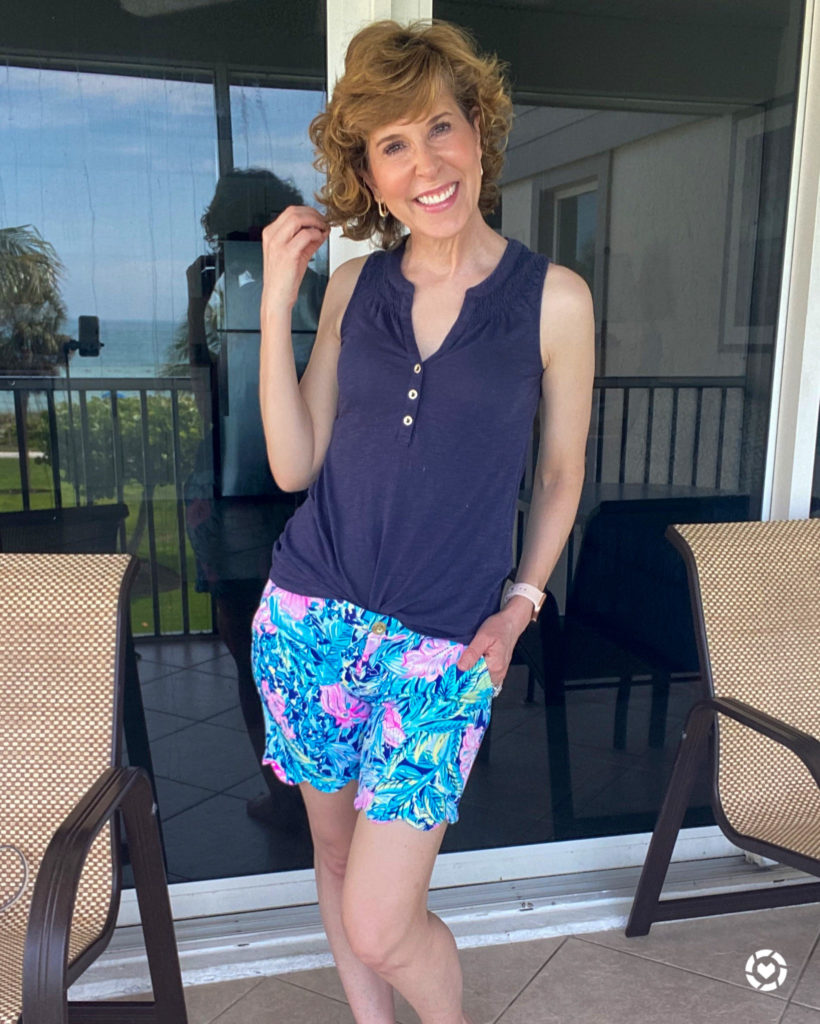 Smocked Sleeveless Tee | 7″ Inseam Stretchy Scallop Hem Shorts | Safety Pin Earrings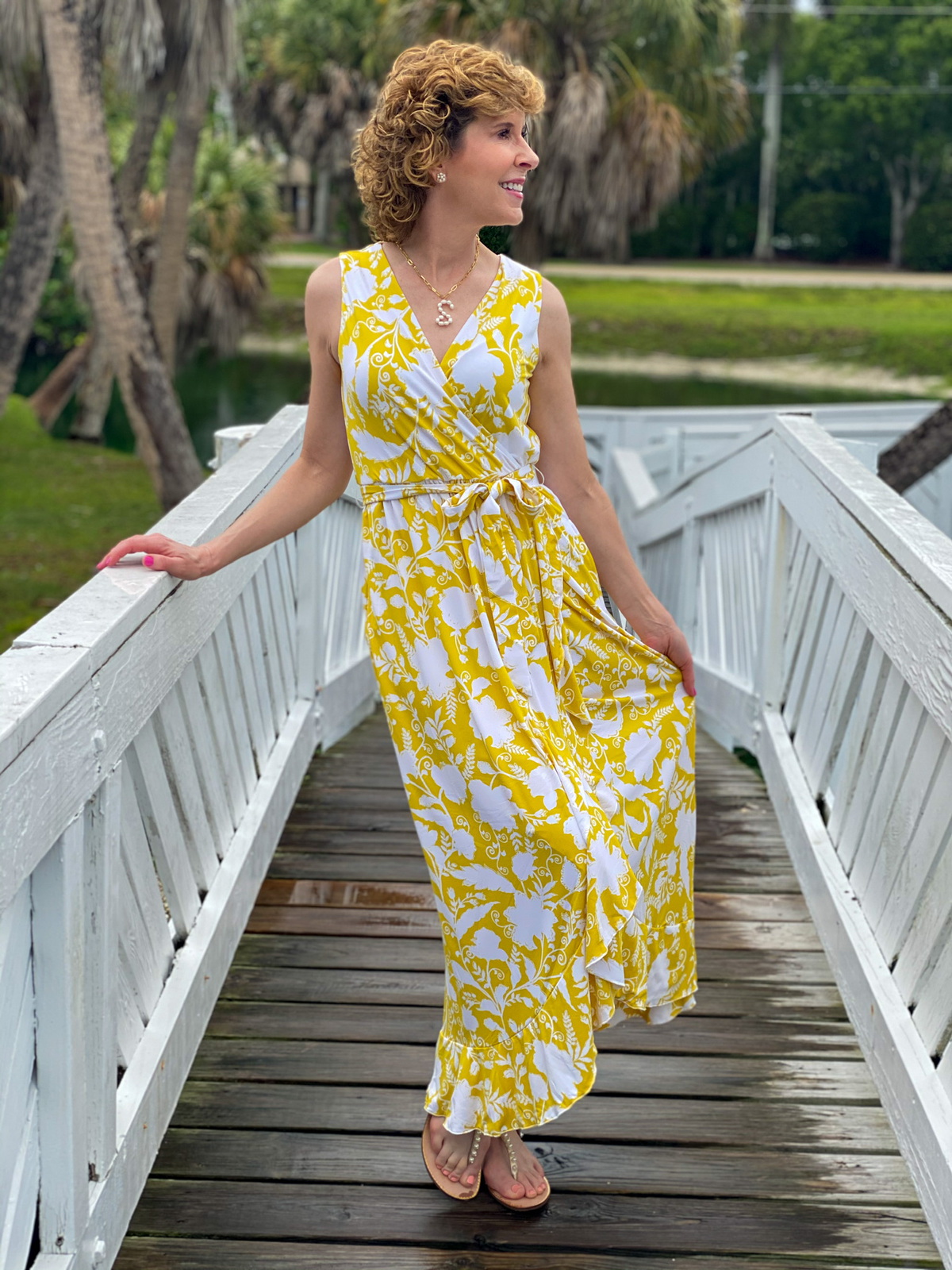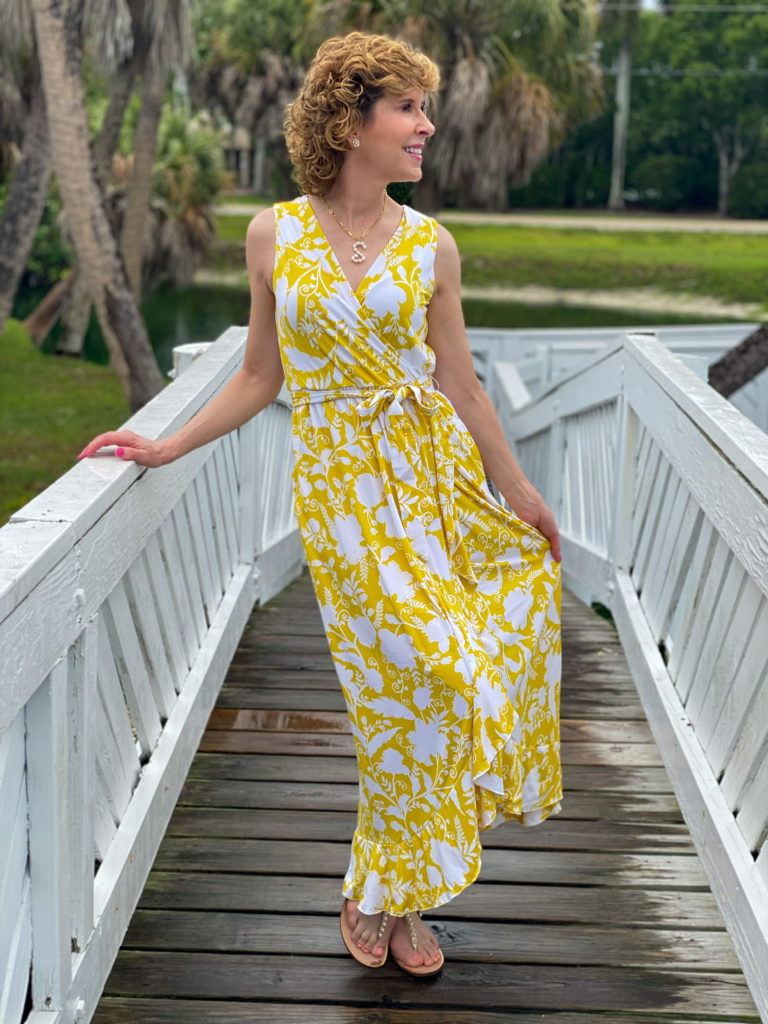 Double-Lined Ruffle Trim Maxi (Fits TTS; on sale!)| Pearl Embellished Sandals (similar) | Pearl Initial Necklace | Pearl Stud Earrings

Father's Day Gift Ideas
I'll be bringing you some original ideas next week, but in the meantime, check out these favorite brands with awesome Father's Day Gift Guides:
Best Weekend Sales
Thank you for shopping with my links! It supports Empty Nest Blessed and allows me to keep doing this job I love so much!
I think the best sales this weekend are at Soma, Land's End, and Kate Spade. See below for all the details and promo codes!
ANTHROPOLOGIE | 20% off all clothing!
BANANA REPUBLIC | Up to 50% off must-have styles + extra 50% off sale styles. I love this on-sale feminine floral ruched maxi dress!
BODEN | 15% off + free shipping/returns. I adore this beautiful embroidered dress!
CHICO'S | Extra 30% off already reduced styles! Have you seen their new linen collection? The quintessential summer fabric is here, as only Chico's can do it! (Read that: no-iron linen!!!

). I'll be sharing some looks from this line next week on my Instagram!
THE CONTAINER STORE | 30% off closet essentials; 25% off Elfa; 25% off drawer organizers, and lots more on sale! Click HERE to check out all the deals!
GAP | Up to 60% off everything + an extra 30% off with code YOURS
KATE SPADE |40% off everything! with code SUMMER40. That makes the white perforated crossbody with the tassel bow from my travel look (above) only $71.40
! Also, did you know Kate Spade donates 10% of all net profits to help fund 24/7 crisis counseling? #lovethat
KENDRA SCOTT | 25% off statement jewelry. So many beautiful pieces! Click HERE to see what's on sale!
LAND'S END |Take 60% off your entire order with code EXPLORE. Did you catch my recent swimwear post featuring the adorable Draper James + Land's End swimwear collection? It's all 60% off now!
LOFT | 50% off entire purchase with code LOVE.
MARK & GRAHAM | Free monogramming & shipping FRIDAY 6/5 ONLY!
MARLEY LILLY | 60% off rain boots; $19.99 tank tops; FREE tie-dye tee with order! I just placed an order for a few things from this brand. Here's what I ordered:

NORDSTROM | Need Father's Day gift ideas? I'll have some for you next week, but in the meantime, check out Nordstrom's Father's Day Gift Guide.
SOMA |Semi-Annual Sale! (It's their biggest one ever!) Take an extra 25% off styles that are already on sale! Embraceable panties 10 for $50.
Blessings,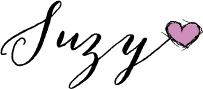 SHOP THE IMAGE AT THE TOP OF THIS POST

The post What's Up, Weekend? Our Travel Experience + Thoughts On This Week appeared first on Empty Nest Blessed.